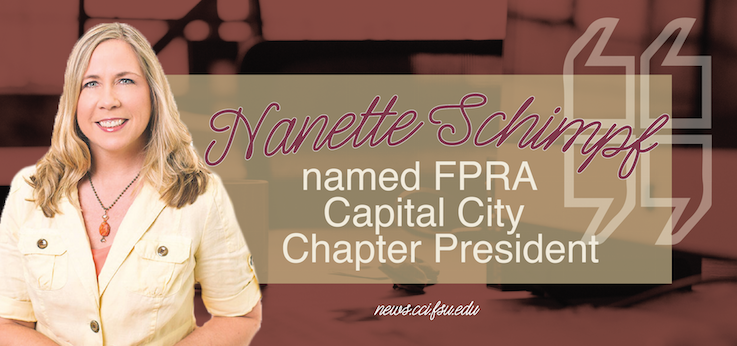 Florida State University graduate Nanette M. Schimpf, APR, CPRC (B.S. '89) has used her communication degree to reach great heights. Currently serving as both Vice President of Moore Communications Group (MCG) and President of the FPRA Capital Chapter, Schimpf's inspiring accomplishments set her apart from the rest.
After graduating, Schimpf worked in the communication departments of Softklone and the Girl Scout Council of the Apalachee Bend. In 2003, she started working in contract public relations at MCG – and she has only climbed the ladder since then. She was promoted to Managing Director before being promoted to Vice President two years ago.
Aside from her degree, Schimpf's positive spirit has taken her a long way in an industry where your attitude can make or break you. Her daring goals, boundless energy, and inclination to help people have been essential components to her great success.
Schimpf's most recent accomplishment is her promotion to President of the FPRA Capital Chapter. She has been with FPRA for over 10 years as a professional, and was a student member during her time at FSU. Working in various capacities throughout her time with FPRA, including Image Chair and Director of Professional Recognition, Schimpf has dedicated herself to the association.
She says, "My favorite thing about FPRA is the unconditional support and true professionalism that exists among every member. It is refreshing to be a part of something that brings positive change and does so in an honorable and smart way."
When she is not busy working on Florida public affairs battles, managing award-winning campaigns, and earning communications awards, Schimpf – who has been compared to the Energizer bunny – enjoys traveling, drinking wine with friends, helping others, and, of course, cheering on the Seminoles. She's also a member and first responder with the Bradfordville Volunteer Fire & Rescue in Leon County. 
Versatile and professional, Schimpf is a perfect example of how far hard work and an optimistic attitude can take someone.
For more information about the FSU chapter of FPRA, visit their website here. Additionally, more information about FSU's Public Relations major can be found here.