2011 Master of Science in Library and Information Studies (MLIS) graduate Natalie Binder has kept a strong faith in the library system since she started working at Jefferson County's R.J. Bailar Public Library in 2009 – and it's paid off. The library has recently been completely renovated to include numerous new opportunities that many people may have forgotten a library can offer.
Before lifting R.J. Bailar Public Library to fantastic new heights as librarian and interim director, Binder earned her Associate of Arts at Bard College. She then continued on to earn B.A.s in both Political Science and Social Science during her time as an undergraduate student at FSU. After working as a Fulbright English Teaching Assistant in Indonesia and then a records clerk, she returned to FSU to complete the MLIS program.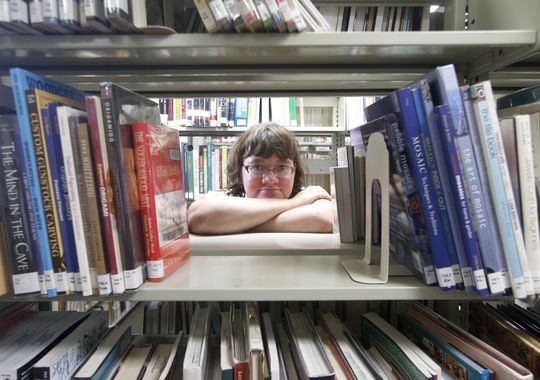 Even before the most recent renovations, Binder brought great improvements to the library. In 2011, she brought over $40,000 in public and private grants to establish a new public computer lab. In 2012, she worked with the National Library of Medicine and the Library of Congress to bring museum-quality traveling exhibitions to Jefferson County for the first time.
The newest renovations performed with Binder's assistance are astounding, to say the least. Still, Binder remains humble.
She explains, "Without the community's support, I don't know what this place would be like."
The redesign includes aesthetic additions as well as resources to help the community. Fresh paint, new carpeting and wooden furniture, and additional floor outlets and charging stations give the library a clean and modern look. Additionally, the library now includes an Indonesian cultural exhibit and an area to showcase local students' work.
The library also features a redesigned children's room that encourages children to read books despite our society's growing reliance on technology. The room features shorter shelves that make grabbing books easier for children, paintings of animals reading that were graciously donated by Melinda Cooper, colorful cushions, and stuffed animals. Additionally, the library hosts a story time each Thursday from 10 AM – 11 AM.
One of the most novel ideas offered by the library is a room dedicated to teenagers. This room encourages teens to build upon their childhood reading habits with a room that is filled with hundreds of old and new young adult novels.
For anyone who is interested in recording music or live performances, the library also features a refurbished studio and offers equipment to those patrons who don't have their own.
The assistance that the library provides the community serves as a great reminder of the helpfulness of libraries. Located in rural Monticello, Florida, R.J. Bailar Public Library is an exceptional asset to the citizens of the town and surrounding rural communities. For example, social workers from the Department of Children and Families stop by each Monday to assist residents with job searches, filing taxes, and completing forms for government assistance.
Binder says, "Because of poor access to services, what we offer is critical. We take on many responsibilities that would be offered in separate facilities in urban areas."
In such areas where an Internet connection can be difficult to come by despite the job market's growing reliance on the world wide web, libraries are a beam of light to job seekers. Catering towards new parents who want to receive an education, the library also features a computer lab with toys so that parents can take online classes without having to worry about finding childcare.
Binder's work at R.J. Bailar Public Library demonstrates that the Internet and other new technologies don't necessarily impede or replace a library; instead, such assets greatly enhance it.