FSU Alumna Dr. Jennifer Brown was recently recognized by the University of Georgia for excellence in undergraduate teaching.
Dr. Brown received the Russell Award for Excellence in Undergraduate Teaching on April 18th, 2022. The Russell Awards were created to honor outstanding educators early in their careers. Dr. Brown is one of three recipients chosen.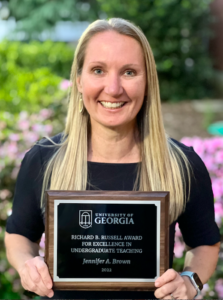 She told CCI, "I am incredibly honored to receive this award. I am grateful for the opportunity to engage in the teaching and learning process with fantastic students year after year while working with excellent colleagues in our program, department, college, and university.  To be included in the group of esteemed instructors who have received the Russell Award for Excellence in Undergraduate Teaching is humbling and exciting."
A two-time alumna of FSU, Dr. Brown specializes in child language intervention, autism spectrum disorder, and collaborative practices centered on improving communication outcomes for children with and at-risk for disabilities and their families in natural environments. She graduated from Florida State in 2003 with her BS in Communication Science and Disorders, and earned her PhD in 2012. She currently works for the University of Georgia as an Associate Professor and Graduate Coordinator for the Department of Communication Sciences and Special Education.
In addition to her work with students in the classroom, Dr. Brown has also created a service-learning and research partnership with Downtown Academy, a non-profit school that primarily serves inner-city K-5th students. This collaboration is meant to create meaningful hands-on experience for UGA students, while also serving the community. College students who participate have the opportunity to apply concepts and intervention practices in applied community and classroom environments.
Dr. Brown shared with CCI that her teaching philosophy is built on getting students to actively engage with their material. "I aim to empower students to engage in the learning process in a way that they lean not only on what they are learning, but grow by focusing on how they are learning while remembering why they are learning and understanding the impact their learning will have on others," she shared. "To achieve this goal, my instruction builds from three foundational values of teaching and learning — an interconnected shared experience, problem-solving and clinical thinking, and motivating, inclusive, and respectful learning environments."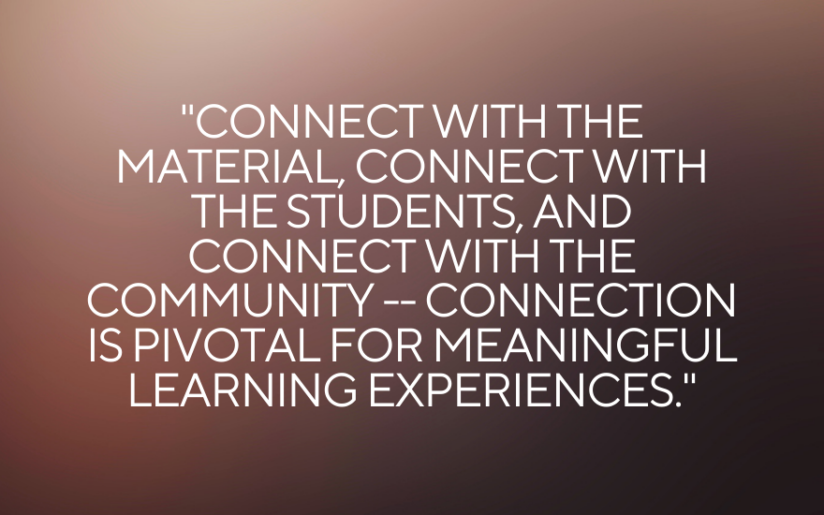 Her advice for other educators is to encourage connection whenever possible. Dr. Brown told CCI, "Connect with the material, connect with the students, and connect with the community — connection is pivotal for meaningful learning experiences."
To read more about the awards, visit https://news.uga.edu/2022-russell-undergraduate-teaching-awards/