Jaime Goldman ('09, M.S. Library and Information Science) was named President of the International Association of Aquatic and Marine Science Libraries and Information Centers (IAMSLIC). She was voted into the position over two years ago and has since then worked her way through the organization. A 4-year commitment, the position of President of IAMSLIC that cycles through the positions of Junior President-Elect, Senior President-Elect, President, and Immediate Past-President. In her current role as President, Goldman serves as the chief executive officer of the IAMSLIC and has general supervision over its affairs.
"One of my top goals is to ensure meaningful connections between our membership and to improve communication from the Executive Board and among members," Goldman said.  "In this time when we are even more at a distance than ever, I feel that these connections are essential and vital." She plans to host virtual meetups to accommodate the international members of the organization and intends to continue the work of her predecessor by updating the bylaws.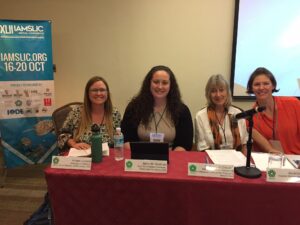 When Goldman is not volunteering for IAMSLIC, she manages the Nova Southeastern University Oceanographic Campus Library in Dania Beach, Florida. In this position, she does a little of everything around the specialty library. "It's a challenging and rewarding job that allows me to combine my years of education and experience in both the marine and library sciences into a job that I love."
Goldman developed her love of leadership and involvement during her time in the Florida Leaders and Managers scholarship cohort at FSU.
"Jaime was a wonderful student and member of our Florida Leaders and Managers Scholar cohort," said iSchool Professor Michelle Kazmer. "Given her professionalism and expertise, including another master's degree in Marine Biology and Coastal Management, it is not surprising that she has been elected president of IAMSLIC."
Goldman's participation in the cohort while earning her master's degree in the iSchool supported membership to the Florida Library Association and attendance to their yearly conferences. "I left my first ever FLA conference as a member of the Leadership and Development Committee and never looked back," she said.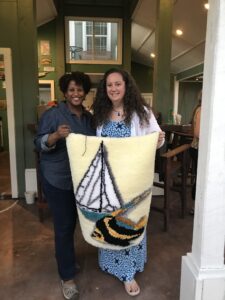 Since her time in the iSchool, Goldman has continued her involvement in professional organizations through local, state, national, and now international associations.
"The IAMSLIC is an organization of librarians and information professionals involved in all aspects of aquatic and marine sciences and their allied disciplines," says Goldman. "Being a member of IAMSLIC has not only provided me with the training, resources, and support needed in my job over the years, but also leadership opportunities and lifelong friendships."
Goldman is grateful for the opportunities the organization has given her and looks forward to her future work as President.