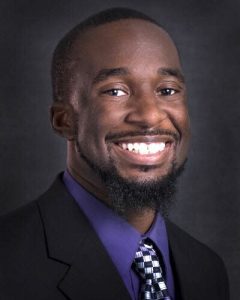 Philadelphia native, Joaquin Coston, earned a bachelor's degree in Information Technology in 2013. After graduation, he began working as a senior web design specialist for Florida Health. He has now accomplished a dream of his which is having a career in IT. Coston currently works as an IT Specialist for the Navy Department of Defense in Jacksonville, Florida, proud to be helping serve his country in a way he knows how. He provides customer service to users in the 2013 SharePoint Environment and tests different applications for the Navy to make sure they are suitable for users. Coston said, "It's just a good feeling to know I'm actually providing good service to our military men and women even if it's just designing and troubleshooting applications for them."
To learn more about this talented alum, continue reading our Q&A with Joaquin.
What is your dream job?
My dream job right now would be creating a business where I can provide computers to kids for cheap and also teach them how to operate computers. I just think it's always good to give back to people in need.
Who do you admire and why?
I admire my father because he always has the desire to figure out a situation, even if he doesn't know anything about it.
How do you handle work-life balance?
I handle my work-life balance pretty well. I usually work from 6am to 3pm every day and have two Fridays off every month, which gives me a lot of time to relax from work.
Which Jeopardy category could you clear, no problem?
Sports History
How has working in your industry changed the way you look at the world?
It basically gave me the outlook that just about everything and everybody in the world uses technology. Also, technology will probably be the biggest thing in the world soon, if it is not already the biggest thing.
What is your favorite office snack?
Apples
What is the best piece of advice you have ever received?
"Listen to people who have been living for a long time; they should always have something to tell you that you can learn from."
Where do you look for inspiration?
I look at life for inspiration. I'm always inspired by the different experiences people tell me that happens in their life.
What is the best account to follow on social media?
ESPN
How did your education prepare you for your career?
My education mostly prepared me by always being willing to learn something new every day. It also prepared me by giving me all the base foundations of IT that I use now to solve problems in my field.
Share a notable experience you've had at work.
I haven't had too many funny moments yet at my new job, But I think one of the funniest things now is I move slowly everywhere I go to at work because I'm on crutches. I just tore my Achilles recently, and it takes me forever to get to different places.
What advice would you give yourself in college?
I would probably tell myself to invest in Bitcoin for a couple years until the end of 2017 when virtual currency exploded for a bit.