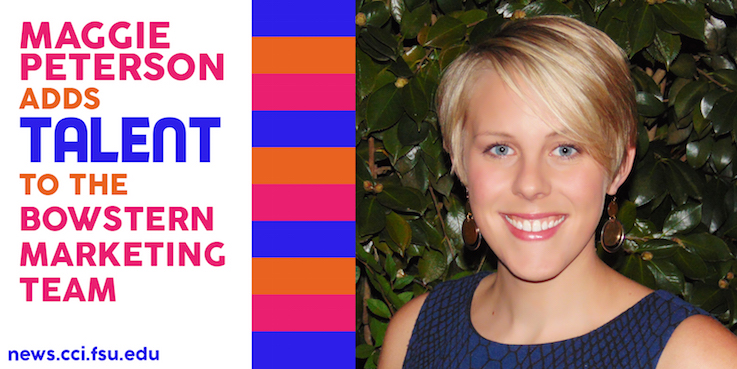 Maggie Peterson (B.S. Public Relations, '11) is the Senior Director at BowStern Marketing Communications. BowStern produces innovative, memorable and results-driven campaigns for clients around the globe.
As Senior Director, Peterson mainly works with the account management team to provide oversight on strategy, planning and execution for client campaigns that are based in different industries all over the world. Peterson says that there is never a dull moment at BowStern and strongly believes that the best part of working at BowStern is the tenacity of the people on the team.
She says, "The drive and passion of our team is absolutely contagious. It's a seriously talented group of folks. We work hard and we love what we do."
BowStern appreciates the education that FSU's College of Communication & Information provides to its students. In fact, the company was born from two creative-minded Public Relations graduates. Kelly Robertson and Tom Derzypolski founded the integrated marketing firm on the basis of results-driven campaigns, strategic vision and tireless gift. The passionate and innovative team is immersed in each project.
Peterson believes in the intelligence and motivation of FSU's College of Communication & Information students.
She reveals, "We've had great experiences with CCI grads from FSU. The education provided through the university's programs truly lay the foundation for a career in this field."
In her spare time, Peterson plays on a kickball team with several of her colleagues from BowStern. When she has the chance to leave town, she ventures to Fort Walton Beach to spend time with family and be out on the water. Of course, she also enjoys attending football games at Doak.
A growing company, BowStern is looking for its next group of talented interns. They want forward-leaning people who are ready to immerse themselves in projects. For more information about BowStern Marketing, check out their website here. Additionally, for more information about FSU's Public Relations program, click here.