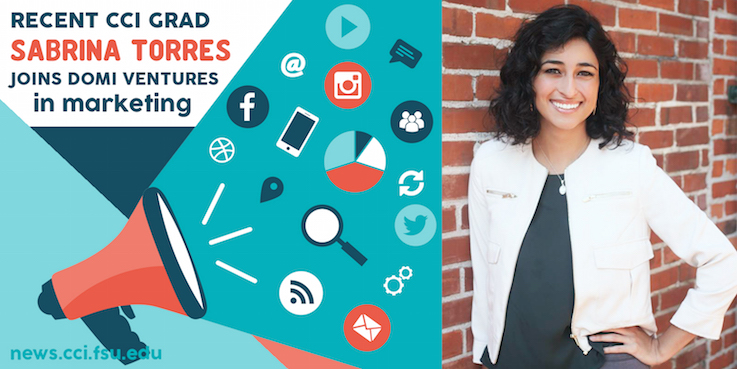 Sabrina Torres (B.A. Studio Art, B.A. Advertising, '15) recently accepted an exciting new position as the Marketing Coordinator at Domi Station here in Tallahassee. Previously, Torres worked as the Account Coordinator for MCG Latino, the Hispanic marketing branch of Moore Communications Group.
A business incubator and coworking space, Domi offers mentorships, resources and educational programs and hosts networking events. Each day at Domi is different for Torres, but she finds joy in the crazy and creative environment.
She explains, "We have always something going on. When it's not an event, it's a presentation or a meeting or a tour. Everyone here is constantly creating or working on the greatest next big thing."
As Marketing Coordinator, Torres specializes in social media, analyzing the company's engagement and strategizing upcoming campaigns. While this may seem overwhelming, Torres' time spent in FSU's Advertising program provided her with transferable knowledge that she is able to leverage in her career.
She says, "What stuck with me the most is strategic planning. We all want to execute these amazing and flawless campaigns, but you can't do that without carefully planning the ins and outs. I can definitely thank the Advertising program for engraving that in my brain."
Sabrina's experience at FSU also speaks to her interest in film. Based off of a simple love for movies, this interest led her to join the Film Club at FSU her freshman year and eventually become the Public Relations Director. She also participated in IronZoo Productions as the Marketing Director for their sci-fi series Chronos as well as the Tallahassee Film Society, for which she is now the Manager.
In the future, Torres would like to promote independent films across the country.
To learn more about the Advertising program at FSU, click here.