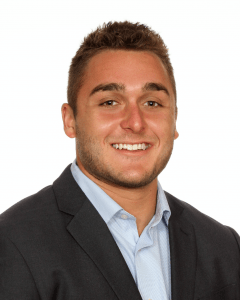 Scoring a job in your dream field after graduation sounds too good to be true, right? For recent iSchool graduate Brandon Tirado, this is a reality. Tirado will start as a Cyber Security Analyst for ReliaQuest this July in Tampa, Florida. He will be responsible for providing analysis and investigation of security-related data, will participate in cybersecurity vulnerabilities, and will provide Incident Response support.
As a former thrower for the FSU Track and Field team, Tirado had to find a good balance between being a student and a student-athlete while at FSU. On top of a challenging major and a demanding sport, he also interned with FSU's Information Security and Privacy Office where he worked in the Security Operations Center.
Tirado always felt drawn to computers and technology. "I knew I wanted to start in this setting so I am surrounded by like-minded individuals and can learn from those individuals," he says. "In late high school when Edward Snowden leaked the NSA files I look at the situation differently… I was amazed by how technology was being used and this opened my interest into cybersecurity."
He credits his professors in the School of Information for feeding his passion for the field of technology. "Dr. Ho does a great job of giving the exposure students need and want to cybersecurity; Joseph Hemingway was an amazing instructor for networking; and Jung Hoon Baeg's courses were very important to me for bringing it all together," he explains.
Tirado is eager to begin his new position where he can apply the skills he's learned in class to real-life situations. He is passionate about learning and is looking forward to all the things being on the job can teach him. Eventually, Tirado aims to lead a technical team and is excited to start "earning [his] keep and developing skills to become that security leader," he says.