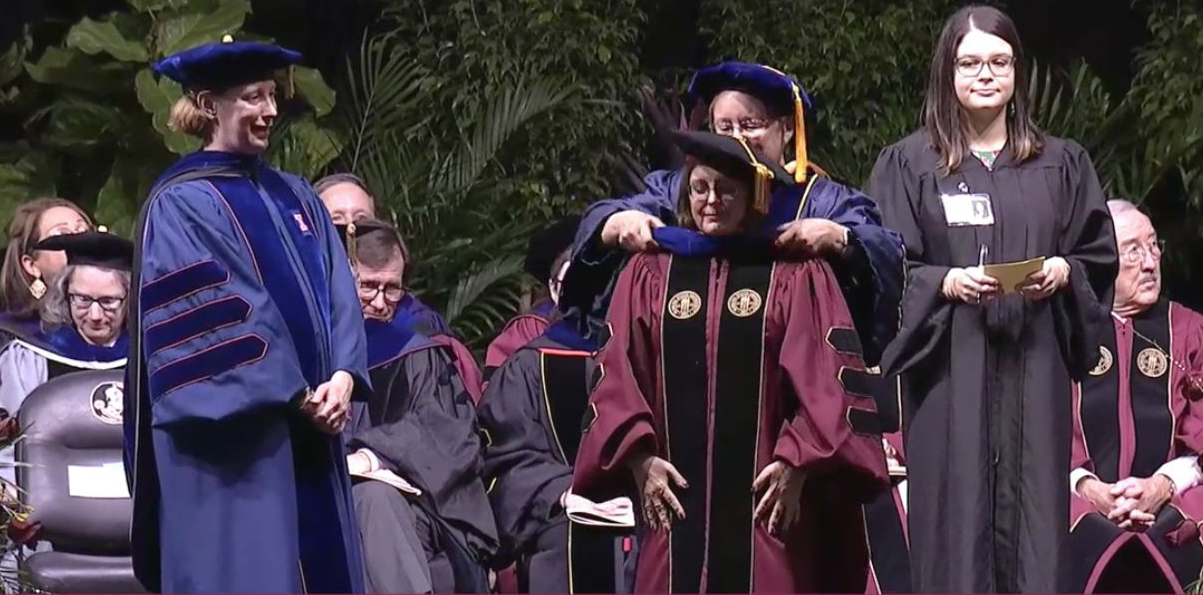 Part of our CCI Doctoral Student 20 Questions series, we get to know Cheryl Booth. Cheryl graduated FSU with her Ph.D. in Information just four days ago, on December 13, 2019. Congratulations, Cheryl!
1. Where did you grow up?
I grew up in Corpus Christi, Texas and Falmouth, Massachusetts.
2. What made you choose FSU?
My advisor during my master's program at University of South Florida, John N. Gathegi, had been on faculty in the iSchool.
3. What are your research interests?
Broadly, information behavior.  Specifically, online information privacy behaviors.  I have a JD as well, so my focus also includes how the legal protections (or lack thereof) of privacy inform and are informed by information behaviors.
4. How does your research drive your passion?
In my capacity as a lawyer for two large (Fortune 500) organizations, I negotiated tech contracts of many different types; one issue that was consistent in each was the issue of protecting client's information (i.e., privacy).  Add to this the fact that while being able to do so much online makes our lives so much more convenient in many ways, we are also greatly increasing our exposure to having our private information compromised (stolen, misused etc.).  I want to participate in the discussion around how we can arrive at a balance between risks and benefits – so that people do not feel inhibited or even prohibited from using the benefits of online interaction to the fullest.
5. What is your favorite course you've taken at FSU?
In the iSchool, I have to say I really enjoyed Dr. McClure's Information Policy class.
I also completed a master's certificate in Measurement and Statistics in the COE; I really enjoyed the Experimental and Quasi-Experimental Design course I took there.
6. What course would you like to teach?
Information policy; information ethics; privacy law; information law (including not only issues of privacy but also intellectual property – which was also an area I dealt quite a bit with in my practice).
7. What are your hobbies outside of school?
I am a devoted and dedicated dog mom; I have a 10-year-old Whippet named Robin whom I adore.  I love spending time with him.
I also love movies and movie music.
8. Where is your favorite place to grab dinner/somewhere you are excited to try in Tallahassee?
I don't eat out much, but I have gone to the Osaka Steak House a couple of times and really enjoyed it! Also, the Chicken Fried Rice (w/broccoli) at the Happy Wok on Monroe has been a go-to for me.
9. What is your favorite book and why?
I love most of Dan Brown's stuff – great fusion of mystery, religion and philosophy (as well as history).
I also like most of the late, great Michael Crichton's books – I worked in science labs during my undergraduate years and I really love the way he was able to sort of realistically imagine "what comes next" or "what is possible" scientifically.
But in terms of specific book/s – I have to go with the Masters of Rome books by Colleen McCullough.  FABULOUSLY researched, but wonderfully fictionalized accounts of Rome during the Republic.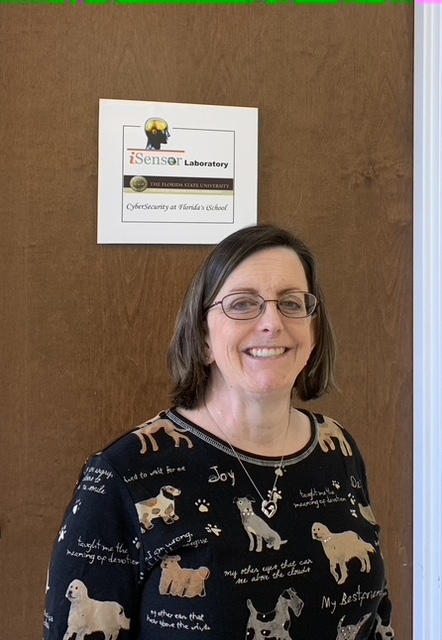 10. If you could have dinner with four people (living or dead) who would you choose?
First, my personal hero – Queen Elizabeth I.
Second, my great-great-great grandfather, William Booth, who founded the Salvation Army.
Third, President Lincoln – my American hero.
Fourth, I think it would be cool to meet Nadia Comaneci.  She was my sports hero as a kid – got me into competitive gymnastics.
11. What accomplishment are you most proud of so far?
Just finishing up the doctoral program. I was much, much younger when I did my law degree – and it's taken quite a bit out of me to make it through this process.  So I'm proud that I've made it.
12. What is your favorite band?
I admit to loving the Beatles.
13. What Jeopardy category would you clear, no problem?
British (esp. Tudor) history.
14. What is the best piece of advice you've ever received?
Your mind is a bad neighborhood; don't go there alone.
15. Do you have any pets?
Yep – I have a dog, Robin.  Just before starting at FSU, I lost his "big sister" Meg, who was 15.
16. When you have time, what are you streaming?
Current favorite shows include Chicago Fire/Med/PD; Law and Order SVU; How to Get Away with Murder; Mr. Robot.  Also, Doctor Who. I used to binge on Once Upon a Time and Designated Survivor – but they're off the air now.
17. If you were to write a personal memoir, what would you title it?
"Can I have a do-over?"
18. What is your favorite student life activity/one you are looking forward to?
I live too far off campus to participate frequently in campus activities.
19. If you could be famous for something, what would it be?
I'd like to be famous for helping bridge the gap between the various laws and regulations around various information behaviors and the underlying behaviors themselves, and thereby address the secondary digital divide so people can not only access all of the wonderful resources available online and take advantage of the convenience of interacting online but also not feel inhibited from doing so by the potential risks to personal privacy.
20. What is the best part of being in a doctoral program in the College of Communication and Information at FSU?
I do like that I have learned a different way of thinking about things/approaching problems. Between the iSchool coursework, my own research, and the classes I did in the COE, I've added quite a few new tools to my professional toolbox!