On May 31st, School of Communication (SCOM) Alumna Kimberly King appeared on the Market Site Tower in Times Square as a graduate of the Nasdaq Entrepreneurial Center's Milestone Circle Program.
This program is meant for women entrepreneurs who want to renovate their business plans. Milestone Circles helps women set crucial business milestones while building a network of support. By graduating from this program, King received mentorship that guides her business. She was also able to provide her fellow entrepreneurs with her own advice.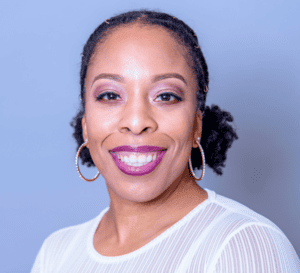 King has always envisioned herself as an entrepreneur, but it wasn't until 2019 that she started her marketing business, KDK Marketing Group.
"I suffered from imposter syndrome in the beginning," said King. "It took another year after starting my business before I even told anyone I started it."
Her motivation behind joining this program did not solely lie in her business' growth. "I wanted to grow my business and receive additional information on how to scale my business for additional clients and take the time to complete the unfinished administrative work for my business. I wanted to better organize my business so I could run it more effectively and efficiently while cutting down on face-to-face interaction time with clients."
By joining the Milestone Circle Program, King bonded with other women entrepreneurs who shared similar experiences throughout their careers. Being surrounded by women who related to her professional journey, King held herself accountable for reaching her business goals.
King mentioned that having other women entrepreneurs hold her accountable was important to dilute the emphasis she had on her business. She pointed out that the other women in the program "would encourage us to do something for ourselves and that it was acceptable if we did not work on our milestone that week. In the beginning, I doubted myself constantly. A lot of times entrepreneurs are told they have to eat, breathe, and sleep their business to be successful even to their detriment. Each cohort became a sisterhood and another networking tool where you can connect with people. It was nice to have multiple accountability partners and the emphasis not always be on our businesses."