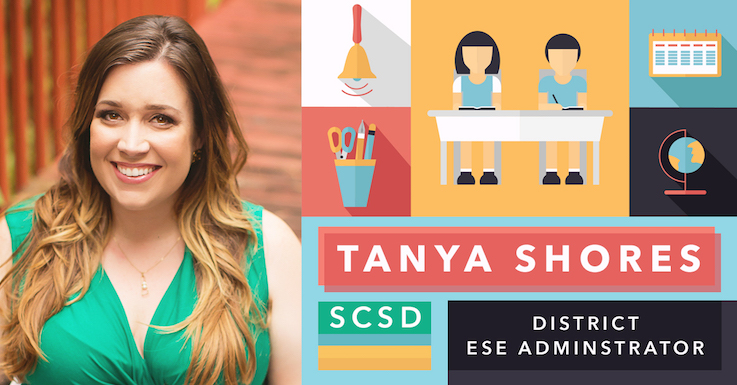 Tanya Shores (M.S. Speech-Language Pathology, '07) has always felt drawn to help and teach others. Even in high school, she had several friends with disabilities and obtained extensive volunteer experiences working with children with disabilities. After learning about the Communication Science & Disorders program at FSU during orientation, it didn't take long for Shores to realize that she had found her calling – and she loves where it's taken her.
She says, "Every class that I took through my graduate program at Florida State influenced some aspect of the day-to-day knowledge I used in the field of speech-language pathology and developed the foundation that I draw from in my current role."
What exactly is Shores' current role? Since last July, she has been a District Exceptional Student Education (ESE) Administrator for Seminole County Public Schools. Her days are spent visiting classrooms, interacting with students and parents, problem solving with teachers and school administrators, and helping facilitate solutions to support students throughout the district. She supervises several services including speech-language pathology, audiology, educational interpreting, and Pre-K ESE programs.
Shores was drawn to work specifically in a school environment by the value her parents placed on education and helping others. She believes that this background provided her and her siblings with a positive attitude towards school experiences and a desire to make a difference in the lives of others.
According to Shores, "There is nothing better than the ability to positively impact a student's ability to communicate and succeed in school."
When she is not busy improving the effectiveness of ESE and student services throughout the district, Shores enjoys spending time with her family. Shores, her husband, and their one-year-old son Patrick take pleasure in visiting Sea World, going to the beach, taking their dog Penny to the park, and attending FSU football games. A few times each year, she likes to get together with a group of her closest friends from FSU, whom she calls her "little FSU family."
If you are interested in the School of Communication & Science Disorders at FSU, click here. If you are interested in the Speech-Language Pathology program at FSU, click here.