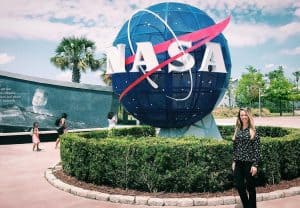 Stephanie Plucinsky earned a B.S. in Information, Communication, and Technology in 2015. Plucinsky made the most of her time at FSU: she was involved with organizations such as Women in IT/ICT Sharing Experiences, the Florida Public Relations Association, Peace Jam, and the Student United Way.  She also worked various positions in the PR setting and with the Walt Disney Company. Starting as a Disney College Program intern, Plucinsky later took on the position of Program Campus Representative. She also served as the Social Media Campus Ambassador for Rent the Runway and Campus Ambassador for Victoria's Secret Pink, Social Media Intern at Spire&Co, and Event Coordinator Intern at TalTech Alliance. Plucinsky also worked in Public Relations at Kidd Group and the Mayfield Group. By the time she graduated, she had experience working in the market for retail/merchandise, technology, entertainment, and diverse areas of PR.
Plucinsky began working after graduation as an Account Coordinator at Uproar PR, located in Orlando, Florida. She worked her way up to Assistant Account Executive, and later Social Media Account Executive. She currently works at the Kennedy Space Center Visitor Complex as the Social Media and Content Manager. "It's a job where I'm learning something new every day," said Plucinsky. "I create and manage all of the social media pages at the Kennedy Space Center Visitor Complex! From taking awesome photos to attending NASA Social for launches, it has been an amazing experience!"
You can see her work on the Complex's Instagram, Facebook, and Twitter. Continue reading our Q&A with Stephanie to learn more about her and her incredible experiences at The Kennedy Space Center Visitor Complex.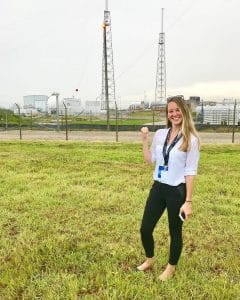 How has working in the industry changed the way you look at the world?
SPACE WILL ALWAYS BE COOL. And to be honest, I didn't know that before working here. There is so much going on in the space industry right now and it's only continuing to grow. Who else is excited for the next space race happening right here in the United States?
How did your education prepare you for your career?
My education at FSU was pivotal to my success. I had amazing leaders (hey, Ebe) who helped me realize what matters in a career and who have taught me the necessary skills to get to where I am today.
What Jeopardy category could you clear, no problem?
John Mayer lyrics!
What is the best piece of advice you've ever received?
"What's for you will not pass you."
There's been so many times where I have been disappointed about something, whether it be not getting my "dream job" or receiving bad news from a campaign I worked hard on. However, I wouldn't be where I am today without all the failures I've experienced. They shape you to who you are and it's so important to experience that.
What is the best account to follow on social media?
@NASA – for obvious reasons
Share a notable experience you've had at work.
I recently worked with NASA on their SpaceX CRS-15 social. They invited social media influencers to come out, tour NASA facilities and see the launch (of course). It was amazing. I got to go inside of the VAB and see the most beautiful sunrise launch. Makes me realize how lucky I am to have a job that I'm passionate about.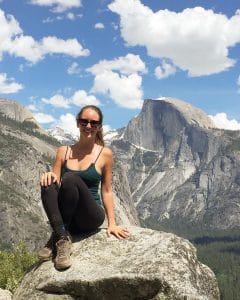 Where do you look for inspiration?
I honestly look to Instagram for inspiration. I made it a point over the years to unfollow anyone who makes me feel self-conscious or brings up negative thoughts about myself. Now, I only follow inspiring accounts, influencers and friends who can always inspire me to be a better person than yesterday.
Who do you admire and why?
Sounds cliché, and the typical response, but I truly admire my entire family. My mom has done it all, gone through tough times and made it out being a successful woman and an amazing mother. I can count on her for everything! My dad is one of the most hardworking people I know, but always knows how to have a good time. My sisters are a consistent source of inspiration for me. I couldn't do it without them!
How do you handle work-life balance?
Work-life balance is extremely important to me, and that can be hard since I'm also managing social media which never sleeps. However, I make it a point to get work done during the day, so I can go home to relax at night with my pup or good friends.
What advice would you give yourself in college?
Don't worry so much   everything will work out as it should. Things are scary senior year and I know you feel like you need a job as soon as you graduate. Take your time, enjoy your last few months and continue to work hard.