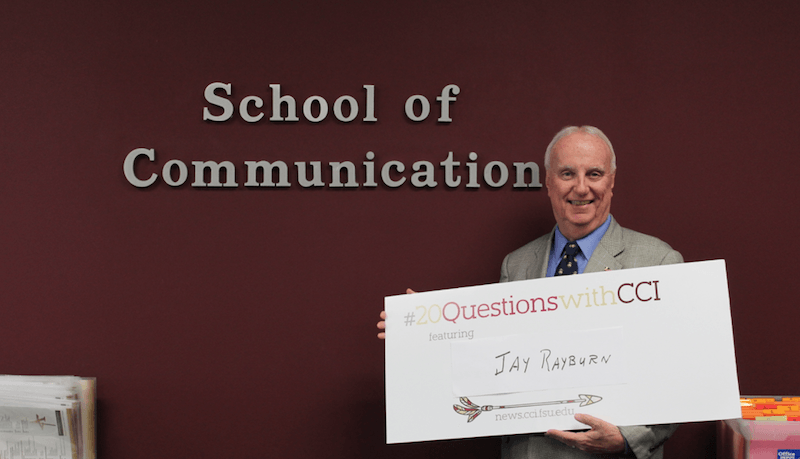 What was your first job?
Lifeguard at Skinner Lake, Providence, KY.
If you were to write a personal memoir, what would you name it? 
I would never write a personal memoir. First of all, I don't have that much to say. Second, it wouldn't be very interesting, and third, nobody would want to read it anyway.
Where did you grow up? 
Providence, Kentucky
What is your favorite class you've taught?
I've taught so many over my 41 years I'm not sure, but at FSU it would be either PUR 3000 (Introduction to Public Relations) or PUR 4600 (PR Management).
What is your favorite place to grab dinner in Tallahassee?
Lots of good places, some have closed, but right now Z Bardhi's.
What are your hobbies outside of work? 
Golf, antiques and art
Have you always wanted to teach? 
No. First I wanted to be a fighter pilot, but I couldn't pass the eye examination for the Naval Academy. Then an attorney.
What is your favorite place you've traveled to or where would you like to go?
Germany, Switzerland, Austria and Italy were beautiful. I'd really like to go to Hawaii and Greece. Egypt to see the pyramids has always been a dream, but not now—too dangerous if you are an American tourist.
How many football games have you attended? 
So many I have no idea—literally hundreds.
Proudest career/life moment?
Career would be receiving the John Dilling Award from the Florida Public Relations Association for lifetime contribution to the public relations profession and FPRA. Life would be my marriage to Rebecca and our children.
What's your favorite band? 
Jimmy Buffett and the Coral Reefers
What is the best piece of advice you've ever received? 
Be sure brain is engaged before putting mouth into gear. Unfortunately I sometimes forget to follow it. 🙂
If money were no object, how would you spend your days? 
Collecting fine art and antiques.
What is your favorite book and why? 
No idea, I've read too many. I like the fiction thrillers, e.g., Dan Brown's books, Tom Clancy, Brad Thor, etc.
If you could be famous for something, what would it be? 
I'd like to be the person who found a cure for cancer, heart disease, or some awful disease that has taken too many people before their time.
What Jeopardy category could you clear, no problem? 
Probably American History.
Do you have any pets?
Two dogs.When my oldest daughter went to school in Boston, the places that would let her have the dogs were so filthy I wouldn't let the dogs live there, much less her.
When did you start working at Florida State University? 
Fall, 1985
What was the last movie you saw in theaters?
Been so long ago I don't remember. I don't like to go to the movies. Too many rude people texting and talking.
What is the best part about your job? 
The opportunity to be with some very fine colleagues and the best group of students I have ever taught.