20 Questions with Richard Urban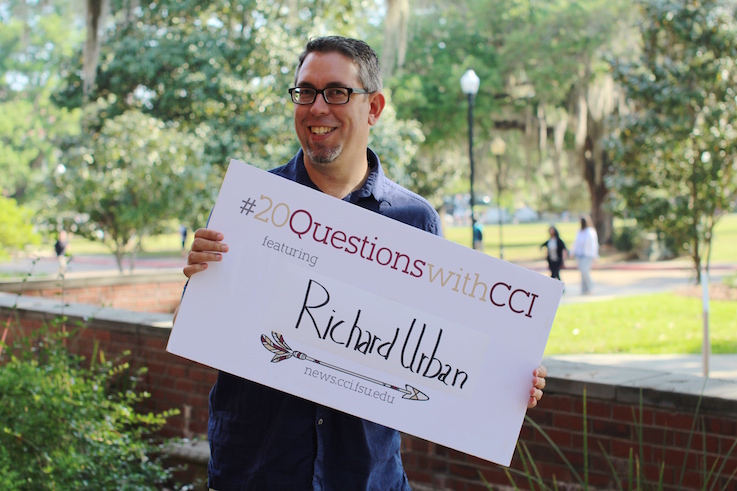 What was your first job?
I started as a "Page" at the Ridley Township Public Library when I was 15. I spent so much time there, I figured I should get paid for it.
If you were to write a personal memoir, what would you name it?  
"Not all those who wander are lost"
Where did you grow up?
Ridley Park, it's a suburb near Philadelphia.
What is your favorite class you've taught?
LIS5590 Museum Informatics is closest to my heart and my research interests. After teaching online for the last seven years, I'm also really excited to be teaching my first face-to-face undergraduate class at FSU, LIS4351 User Experience Design.
What is your favorite place to grab dinner in Tallahassee?
I'm a simple guy. Gaines Street Pies!
What are your hobbies outside of work?
Assistant professors (and new parents) don't have time for hobbies. Occasionally I get out for a hike on one of the greenways, a bike ride on the St. Mark's trail, or kayaking.
Have you always wanted to teach?  
No. I was actually quite an introvert when I was younger, but I was good with technology. I inevitably found myself teaching others what I knew so they could get their work done. My big teaching break came when I joined the Colorado Digitization Program and spent several years teaching librarians, archivists, and museum professionals how to scan their collections, create metadata, and develop digital libraries.
What is your favorite place you've traveled to or where would you like to go?
Athens is an amazing city to explore on foot. I visited during a pretty quiet time of the year and had the Acropolis all to myself.   I hit most of the major museums, but I wished I'd had to the time to see some other nearby sites like Delphi. Athens was just a stopover on the way to Crete for a conference, where we were able to tour Knossos. (BTW, if you can't get to Greece, the Parthenon in Nashville is fun too!)
Somehow in all my travels I haven't been to Italy yet. I'm sure I'll take care of that before long!
How many football games have you attended?  
One. Penn vs. Penn State. Sometime in the 1980s.
Proudest career/life moment?
I'm a proud daddy of a precocious toddler who is a new wonder every day.
What's your favorite band?
My favorites change by season and task. I'm just excited that the Avett Brothers are coming to Tallahassee!
What is the best piece of advice you've ever received?
Be a colleague. –Allen Renear
If money were no object, how would you spend your days?
I've been landlocked for far too long. I really should be on a boat in the Caribbean somewhere. (p.s. if you have such a boat in need of crew, call me).
What is your favorite book and why?
Always a tough question for us! Before switching gears to become an information professional/academic I was a historian/curator and love to read things that tell us how we got here.   Walter Isaacsons' Innovators: How a Group of Hackers, Geniuses, and Geeks Created the Digital Revolution is good background reading for everyone considering a career as an information professional.
If you could be famous for something, what would it be?
Being the faculty mentor who inspired you to do great things.
What Jeopardy category could you clear, no problem?
What is metadata?
Do you have any pets?
Three step-cats. The smallest, Philo, can often be heard in the background of my online classes because she is the LOUDEST small cat on the planet. 6:00-9:00 is prime "hunting" time and she wants everyone to know about it.
When did you start working at Florida State University?
Spring 2012
What is the best part about your job?
Always learning new things together with students at all levels.