20 Questions with Summer Harlow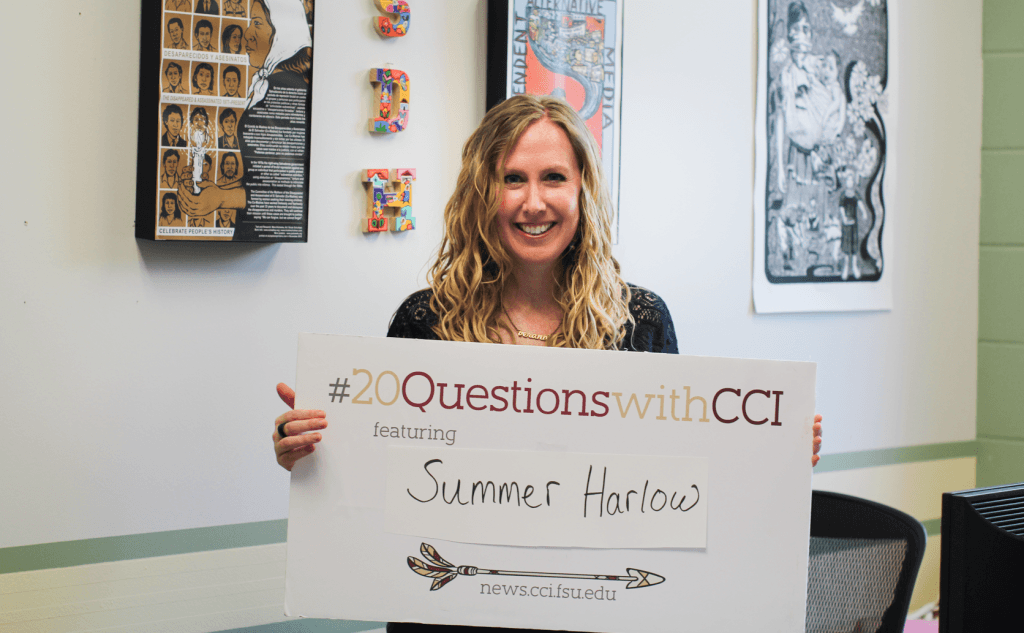 What was your first job? 
In high school I worked at Chick-Fil-A, which is ironic now since I don't eat meat, but my first "real" job was as a city government reporter at The Kansas City Star.
If you were to write a personal memoir, what would you name it? 
Summertime
Where did you grow up?
Littleton, CO
What is your favorite class you've taught?
I've taught my Social Media Campaigns grad class twice now, and it's a class that I thoroughly enjoy. Both times I taught it we had great discussions about the readings, and I'm always happy when I can get students to think critically about the world around them. Plus, the students' final projects blew me away. One group even made group t-shirts to support their campaign, so I think the students have as much fun as I do.
What is your favorite place to grab dinner in Tallahassee?
El Viroleño, because it reminds me of when I lived in El Salvador. Just thinking about it makes me want to eat a pupusa right now…
What are your hobbies outside of work? 
Traveling, writing, languages, reading, hiking, bicycling, bad (but so good!) shows on the CW
Have you always wanted to teach? 
No. I always wanted to be a reporter, which I did for a while, and loved. Academia just seemed like the next step. And teaching still allows me to learn something new every day, which was one of the great things about being a reporter.
What is your favorite place you've traveled to or where would you like to go?
I've traveled or lived throughout all of Central America and some of South America, and so it's hard to pick one place that's my favorite, as they all have something I love and something I miss. As far as places I want to go: anywhere I haven't yet been, especially if it's somewhere I can speak Spanish or Portuguese. I also just got back from Japan, which was my first trip outside of the West, and this December I will head to India, so I appreciate getting to travel to places with languages and cultures so different than what I'm used to.
How many football games have you attended?
One at FSU, but some at Mizzou (undergrad) and UT (grad school).
Proudest career/life moment?
I've gotten to cover some pretty amazing stories as a reporter (including a Dave Matthews show) and gotten some reporting awards, and since becoming a scholar my research regularly wins awards, but my proudest moment was either winning an Inter-American Foundation Grassroots Development Fellowship for a year of research in El Salvador, winning the Inter American Press Association fellowship for a year of reporting in Guatemala, or winning the Nafziger-White-Salwen Dissertation Award from the Association for Education in Journalism and Mass Communication.That award, for the top dissertation in the journalism and mass communication field, means a lot to me since my dissertation, about alternative media's use of technology for social change in El Salvador, allowed me to get to know so many amazing people using media as a vehicle for trying to make the world a little better. On the personal side, climbing to to the top of some pretty steep volcanoes in Central America is something I'm pretty proud of.
What's your favorite band? 
Dave Matthews Band (I'm a rabid fan who travels to as many concerts a year as possible). I just got back from seeing them in Kansas City, where I got to hear a few songs I hadn't heard live in 14 years, so that was great.
What is the best piece of advice you've ever received? 
Follow your curiosity; don't die wondering.
If money were no object, how would you spend your days? 
Seeing the world and learning new languages and cultures, and then writing about my experiences.
What is your favorite book and why? 
Do I have to pick just one? Maybe Bitter Fruit by Stephen Kinzer and Stephen Schlesinger or The Massacre at El Mozote by Mark Danner because not only are they both examples of excellent journalism, but they also opened my eyes as to the way the United States historically has abused its power in Latin America.
If you could be famous for something, what would it be? 
Writing (although I used to want to be a WB star with my own TV show)
What Jeopardy category could you clear, no problem? 
Latin American history and geography
Do you have any pets? 
Not currently (I travel so much it wouldn't be fair), but I'm definitely a pet lover and channel my love onto my friends' pets.
When did you start working at Florida State University? 
August 2014
What was the last movie you saw in theaters?
Central Intelligence. Who knew The Rock could be so funny?
What is the best part about your job?
Getting to travel, do research, and then talk to students about my research and hopefully inspire them in some way.