Associate Dean, Ebe Randeree, and Senior Faculty Researcher, Faye Jones presented their research at the 2022 CMD-IT/ACM Richard Tapia Celebration of Diversity in Computing. 
TAPIA's goal is to "acknowledge, promote, and celebrate diversity in computing." Jones and Randeree worked on two presentations at the conference, "Moving Towards a Causal Agenda: Recruiting, Retaining, Completing, and Employing Black Men in STEM" and "Building Partnerships with and for STARS Alumni."
There are decades of research on broadening participation in the STEM field, and Randeree and Jones shared with TAPIA attendees how to effectively serve one of the most underserved populations in STEM – Black men. Their research explored how Florida State and other institutions can develop a casual research agenda to recruit and retain more Black men in STEM.
"We have to employ practices that work in recruiting, retaining, and completing Black men," Jones said. "This includes approaches that we know work such as outreach activities (e.g., camps and collaborative programs between high schools, state colleges, and universities)."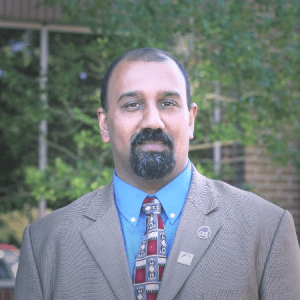 At the College of Communication and Information (CCI), Jones and Randeree have implemented these strategies to broaden participation in STEM by building pipelines. An example is iCamp, where local high schoolers are exposed to career opportunities in computing, technology, and engineering. By sharing the approaches that "work," Jones and Randeree want other institutions to follow in recruiting and retaining more diverse students. 
"They (the attendees) liked our approach to connecting students and building long-term sustainable relationships with students, all the way from high school to alumni," Randeree said. "They realized that implementing that takes resources but they were very excited about it."
Jones and Randeree state there is still work to be done regarding their research. In the last twenty years, the representation of Black men in computing and technology fields has not increased, according to data from the National Center for Educational Statistics.
"Although many Black men succeed at entering the STEM pipeline, not nearly enough make it out of the STEM pipeline to close the gap of underrepresentation that exists nationally in STEM," Jones said. "This is especially true for Black men at Predominantly White Institutions (PWI)."
Randeree and Jones also presented on "Building Partnerships with and for STARS Alumni." STARS (Students & Technology in Academia, Research & Service) is an NSF Funded program that works to increase the participation of women, underrepresented minorities, and persons with disabilities in IT/computing disciplines. Their presentation focused on maintaining relationships with the alumni of the program and creating a national network of STARS graduates.
Beyond establishing a relationship with alumni, tracking STARS alumni can provide information about program success, what employers are looking for, what salaries the school's alumni generate, and what skills are in demand. The data be used for marketing, institutional and state reporting, mentoring contacts, as well as fundraising, and future engagement. Proven to be beneficial for Florida State's STARS program, Randeree hopes that other institutions will also build stronger national networks with their alumni.
"Establishing a national network of alumni can help share best practices, create a sustainable community, and build relationships," Randeree said.  FSU is the lead school currently working on a project with other STARS schools to create a national network of the 50+ STARS programs and their alumni.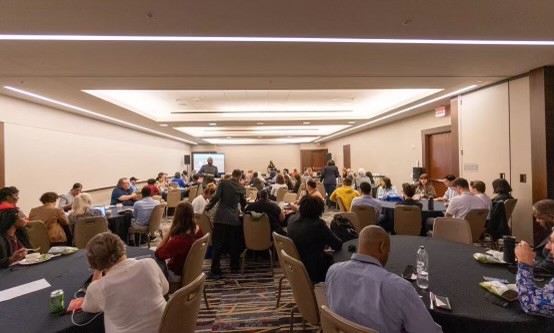 To read more about their presentations and the TAPIA conference, click the links below. 
"Moving Towards a Causal Agenda: Recruiting, Retaining, Completing, and Employing Black Men in STEM" and "Building Partnerships with and for STARS Alumni."