This summer, CCI hosted over twenty-five high school students for five weeks of learning, skill-building, and hands-on STEM experience.
Through FSU iCamp, local high schoolers were exposed to career opportunities in computing, technology, and engineering. The camp is an extension of the Army Educational Outreach Program (AEOP), which sponsors STEM education, competitions, scholarships, and apprenticeships. The FSU site is one of 17 AEOP camps around the country (and the FSU site has been continuously funded for the past 5 years).
iCamp takes place over five weeks, with each week having a different focus. Over the course of the summer, students learned coding in Python, leadership and branding, robotics, STEM careers, and game design. The camp also featured guest speakers each day including industry leaders, officers in the military, FSU faculty, Career Center advisors, and iCamp alumni.
The first week of iCamp was taught by School profe Dr. Christy Chatmon, who has been involved with iCamp since its inception 5 years ago. Chatmon has taught a variety of topics since the camp's creation including mobile app development, Python coding, and web design.
"The camp exposes our students who participate to technology and technology-related topics," Chatmon said. "Having that exposure really opens that door to so many opportunities, and hopefully inspires them to major in STEM or computing."
Throughout the course of the camp, students expressed their various career interests in the STEM and technology field. One of the iCampers, Nevaeh Green, plans to pursue a career as a software application developer and believes her experience in iCamp will help her achieve her career goals.
"Using these skills like robotics and programming, I will hopefully be able to program apps in the future," Green said. "And the communication skills I'm learning here are teaching me how to be able to talk in a professional setting."
Each week, a new topic is taught by people in that specific field. iCamper Ishmael Glass said he appreciated the exposure to all aspects of the industry.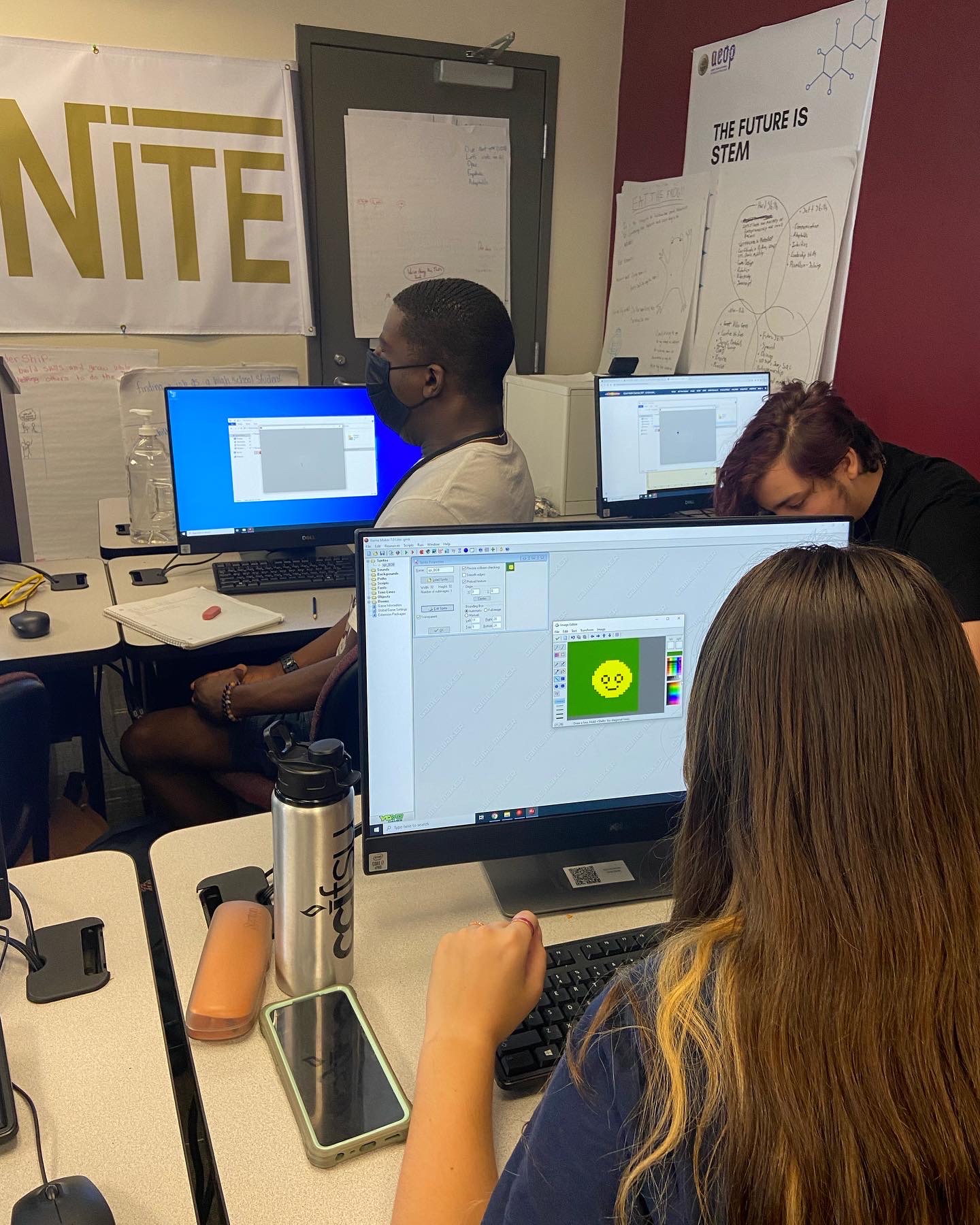 "It's allowed me to be a part of big world technology and be a part of different industries like engineering, software development, and IT of course," Glass said.
Bringing students together from different schools in the Leon County area, iCamp has turned these twenty-five students into a community of like-minded individuals. Over the course of this six-week program, Dr. Faye Jones, the co-director of iCamp and a Research Specialist at the College of Communication and Information, has watched the relationships between these students grow and build.
"I really love that the students become friends," Jones said. "They become really close friends and after they leave us, they still talk with one another and pursue projects together."
iCamp also emphasized the skills of communication and leadership. Ebe Randeree, co-director of the iCamp focused his efforts on resume building, LinkedIn profiles, website creation, personal branding, and demonstrating leadership skills.
"Leadership is a critical skill that elevates students among their peers and helps them set goals and direction for themselves," Randeree said. "They get the same training that we share with college students in all the topics we cover, making them better prepared to lead in high school, lead in their community, and lead when they get to college."
The FSU Career Center helped the students practice their interview skills, and the iCampers learned more about their possible career paths with individual assessment tools. Many of them reported that they learned how to be better communicators, listeners, and overall students through this camp.
"I thought I was a very shy person but I've been able to talk to more people and get to know myself better," Green said. "People have told me I'm a communicative/social person and I never thought of myself that way. The camp, and the people in it, have opened my eyes to a new part of myself."
Many of those who graduate from the camp have pursued careers in the STEM and technology world after high school. One of those people is past alumni, Caleb Parker, who will be taking Computer Science at FAMU in the Fall.
"One of the things I gained from iCamp was the knowledge," Parker said. "I knew after that I wanted to pursue a career in technology. I believe that one of the great things I learned was knowing what I want to do in the future."
While this year's iCamp has concluded, those that were involved in the 2022 FSU iCamp won't stop their learning just yet. The College works with these students throughout the year, helping them navigate their career paths throughout the rest of their high-school education and beyond.
"We really do become a family here," Jones said. "One of the things about iCamp is that we will pursue things together and we will make an impact on the world."
To see what the iCampers have learned, built, and created – Check out @fsuccicamps on Instagram for more information.
Watch this year's iCamp Video, featuring students, alumni, and educators!