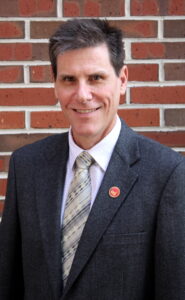 College of Communication and Information Professor Dr. Johnathan Adams alongside graduate student Ava Dodd had their paper titled "The Role of Synthetic Data in Aerial Object Detection" accepted to the International Conference on Marine, Aviation, Transport, Logistics and Trade to be held in Amsterdam, Netherlands.
The paper is a culmination of the past two years of research from the FSU Computer Vision lab. Managed by Dr. Adams, the Vision lab is comprised of a team of undergraduate student researchers whose goal is to make computer vision cheaper, faster, and better.
"The work started in 2019, about the start of the semester," said Dr. Adams. "The university made it possible to buy a machine-learning computer with a tech fee grant. Lester Hutt, from Diverse Computing, recommended Ava as an intern, and several students came to work with me through the UROP program.  Ava Dodd, John Sutor, and Erin Murphy started to work together on a computer vision system that would identify sea turtles. That research led to my team earning an IDEA grant, and making presentations at the Florida Undergraduate Symposium, as well as the Harvard University Undergraduate Consortium in the Spring of 2020. They have been very successful"
The team became interested in synthetic images after presenting a literature review about synthetic images in March at the 9th International Conference on Information and Education Technology in Okoyama, Japan. Through that research, we all learned that there aren't enough images to properly train the artificial intelligence system. With this realization, the team decided to create their own images to train the AI. Once a pipeline was built to create the images, a number of tests followed. The most recent was to test the AI with a demo "Shark Finder" project, resulting in the most recent publication.
The research became a platform for Ava Dodd's undergraduate thesis, which has now been turned into the startup company syntheta.ai
which creates synthetic training data for computer vision, in order to solve computer vision problems.
"Artificial intelligence is an area of research that underscores the importance of interdisciplinary research, and teamwork. The MLAB offers an opportunity to wade into the deep waters of big data and artificial intelligence in a supportive, research-oriented environment. "
To read the team's most recent paper, click here.
To read the team's earlier research on AI and undergraduate research, click here.