On February 27, a plane with Dr. Selena Snowden, her husband Ryan Snowden, audiologist Dr. Halle Van Oss and 12 School of Communication Science & Disorders students landed in Solola', Guatemala. For the next four days, the group would provide the impoverished community with hearing clinics and construction work. With help from non-profit organization Porch de Salomon and hearing aid provider GN Resound, Selena and the students were able to give 40 children and adults new hearing devices.
For the first three days of the trip, the group hosted hearing clinics that featured hearing evaluations and hearing aid fittings. The services could be provided to anyone ages two and up, but the group worked mostly on adults. This was important to the people of Solola' because mission trips that help people with hearing loss typically cater to children in school settings.
Snowden comments, "You're reminded of the safety nets that we have in the U.S."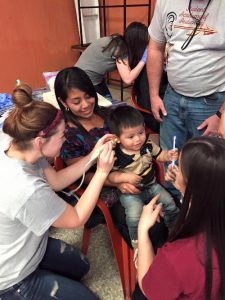 Guatemalans affected by hearing loss patiently waited in line throughout the three days that the group worked there. With so many people in need and only 40 devices to hand out, Selena and her students had to make some tough decisions. By the end of day three, there was a line out the door and only one device left. Because this was her second time going, Snowden knew to expect this. However, seeing students who were there for the first time crying reminded her of needs that can't be met. Rather than being satisfied with the help that they provided, the group was touched by the unfulfilled needs.
Snowden shares, "Here, we determine whether or not there is a need for help. There, it's who has the biggest need."
The last device was given to Maria Sacquic, an indigenous woman of the Solola' population with numerous medical impairments. Her poor eyesight, likely attributable to cataracts, is expected to diminish completely. Her new hearing device will help compensate for her probable blindness.
On day four of the trip, the group assisted with the construction of a store next to a home that was previously built by Porch de Salomon. The store will provide income for the family living in the home.
Snowden started this project because she felt a calling to do mission work. However, everything that she tried to get involved in ultimately fell through, so she decided to take matters into her own hands. Porch de Salomon came into the picture when she started speaking to FSU alumnus and Porch de Salomon co-founder Lloyd Monroe. Since then, the non-profit has been an invaluable resource to the mission trip, scheduling everything and providing outreach with homes, clothing, medicine, food and more.
Snowden encourages the community to help provide necessary basic supplies for the people of Guatemala, such as clothing, protein-rich food and water purification systems. This year, FSU faculty contributed over $1,200 to the cause.
If you're interested in donating to the cause, you can find Snowden's contact information here. Additionally, to learn more about the Communication Science & Disorders program at Florida State, follow this link.