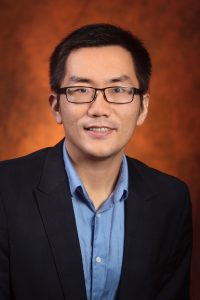 FSU School of Information (iSchool) Associate Professor Zhe He had his research published in the academic journal JAMIA Open. His research, titled "How the clinical research community responded to the COVID-19 pandemic: An analysis of the COVID-19 clinical studies in ClinicalTrials.gov" aims to understand the landscape of COVID-19 clinical research. Co-authors on the publication include Arslan Erdenasileng and Aiwen Xing, doctoral students in FSU's Department of Statistics.
With the help of natural language processing, Dr. He analyzed 3,765 COVID-19 studies registered in ClinicalTrials.gov using descriptive, association, and clustering analyses.  The goal was to find out if these studies considered and reported underlying health conditions that may lead to illness, and if these studies included older adult patients, especially those with multiple chronic conditions.
"This study provides insights into the design of the COVID-19 clinical studies," said Dr. He. "We have also shown that natural language processing can be applied to analyze a large number of clinical studies and identify issues that may cause delays in patient recruitment and lack of real-world population representation in the studies."
The results of this research show that both genders and older adults are considered in COVID-19 clinical studies. However, people with previous risk factors such as diabetes, hypertension were considered by less than 5% of trials and pregnant women were excluded by about a third of these studies.