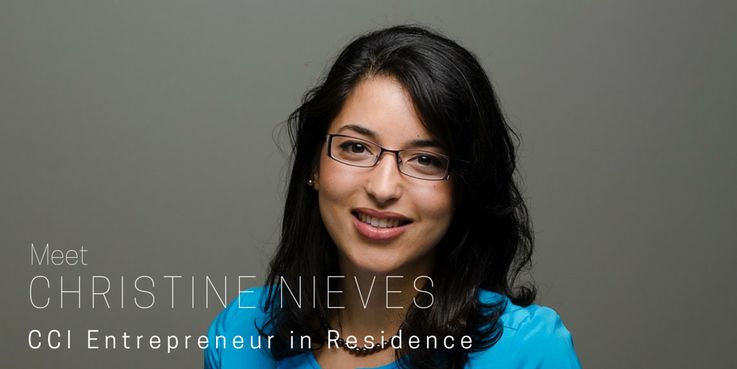 Christine Nieve's bright smile and seemingly endless energy will be a common sight in the College of Communication and Information starting this Fall.
Christine has been hired as CCI's Entrepreneur in Residence (EIR). She brings her extensive experience as a communicator, network-waver and catalyst for change to CCI, with aspirations to further the College's students and faculty.
As an entrepreneurial university, Florida State has placed emphasis on creating a culture of entrepreneurship, creativity and innovation. Through a $4.25 million gift from Jan Moran and The Jim Moran Foundation made the dream a reality, establishing the Entrepreneur-in-Residence Program.
Christine joins the Council for Entrepreneurship, which all EIRs are a member of. The council's mission is to facilitate graduate success and support the university's focus on entrepreneurship.
The self-proclaimed "innovation muse" is a fellow of StartingBloc, a non-profit organization that brings together entrepreneurs, activists, educators and innovators to create change.
Previously, Christine was a program associate with the Robert Wood Johnson Foundation, where she helped source new ideas, design and manage grants, and provide strategic thinking for the Foundation's network.
Christine has her Bachelor's in Communication from University of Pennsylvania and her Master's in Social Policy and Social Intervention from the University of Oxford. If she looks familiar, it may be from her experience at TED,WIRED, SparkCamp, Hispanicize and Telemundo.
The England born, Puerto Rico raised, Tallahassee dwelling entrepreneur is sure to foster ideas both new and old with CCI. Outside work, you can find her camping, kayaking, hiking up volcanoes (true story!), sailing to dog island and trying to get over her fear of jumping into springs and sinkholes.
"I have an unhealthy obsession with books and independent bookstores (and will spend a lot of my money in them)," she shared.
Keep up with Christine on Twitter, @MyThirstyBrain.