During a Thursday class on November 9, 2023, Professor Andy Opel's Immersive Documentary Production class joined students and faculty from the University of Tampere, Finland, and the Universities of Bergen and Volda, Norway, to exchange ideas about climate change.
Approximately 25 students from all institutions gathered around a virtual campfire in a virtual forest.
The group included students from Nigeria, Bangladesh, India, Belgium, The Netherlands, Ghana, Poland, China, Finland, Norway and the United States.  The interaction took place in the metaverse on the platform spatial.io, with each participant represented by a human-like avatar with the ability to speak, gesture, and move around the virtual space.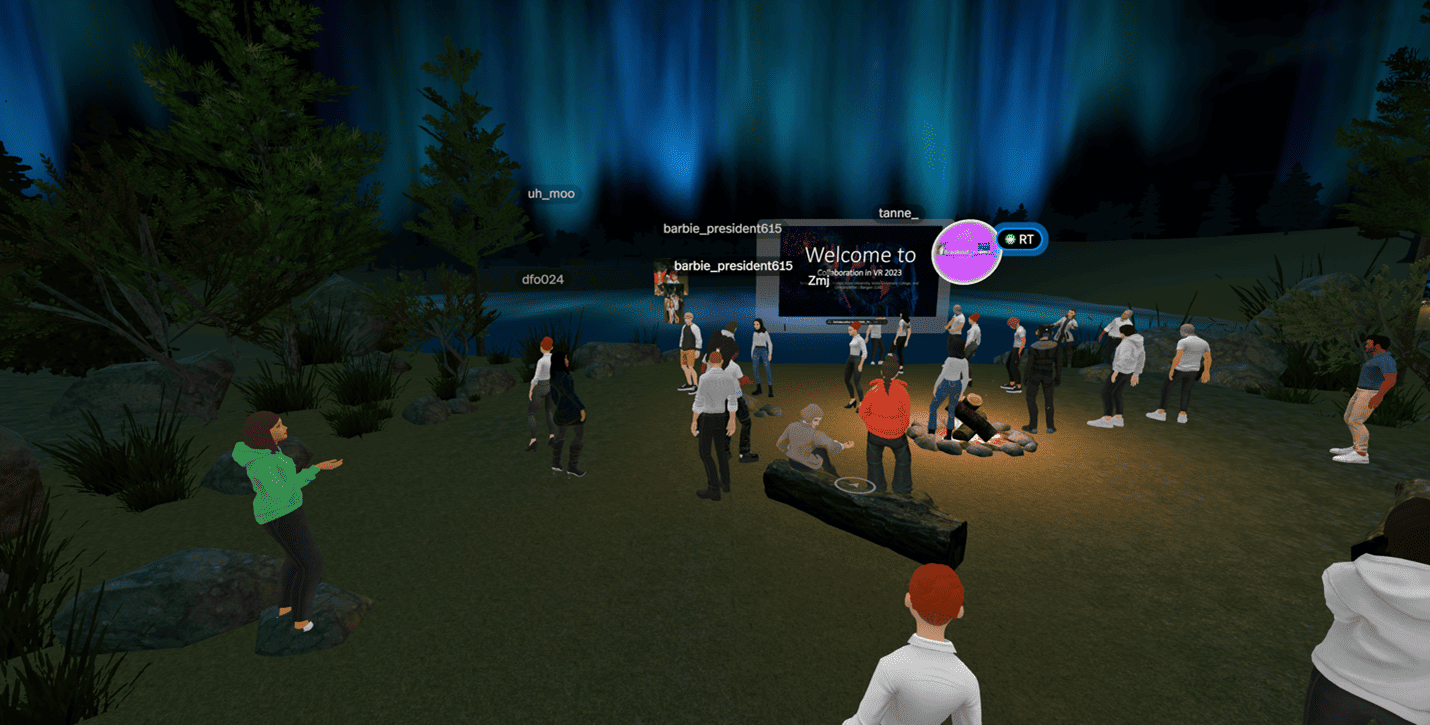 "It wasn't merely a supplement to traditional education; it was a glimpse into the future, where technology and collaboration create an entirely new landscape for learning," Sarvani Eleswarapu, a Media and Communication Studies Master's student, attending from India, stated.
Sammy Johnson, a Digital Media Production undergraduate major, added, "Virtual reality allows us to connect with people from around the world as if we were all in the same room. It promotes cultural exchange and helps us understand different perspectives."
During that session, students were divided into small groups and began exchanging ideas about how climate change was impacting their respective homes and what solutions were beginning to emerge.  This virtual gathering allowed people from across the globe to share observations about changes taking place in their home countries, all while interacting in the virtual world of the metaverse.
This ongoing project is the result of a collaboration between Rucha Tulaskar, a doctoral student at the University of Tampere, and Andy Opel, Professor in the School of Communication at FSU.  Tulaskar reached out to Dr. Opel after meeting one of the Norwegian students Dr. Opel had worked with at the University of Bergen while he was a visiting Fulbright Scholar in 2019/20.
In April 2023, Rucha was able to attend Reclaiming The Metaverse, an in-person seminar Dr. Opel co-led with his collaborator, Dr. Lars Nyre (University of Bergen).  At the seminar, they expanded their plans for international collaboration in the metaverse.  Opel and Tulaskar made other connections at the Reclaiming the Metaverse seminar and this resulted in Dr. Audun Håkon Klyve Gulbrandsen (University of Bergen) and Dr. Ivar John Erdal (University of Volda, Norway) joining the virtual gathering and including a number of their students in the virtual exchange.
This team of collaborators is planning a series of virtual events during Spring 2024 where students will work together on a shared assignment across classes in the four different universities – Tampere, Bergen, Volda, and FSU.