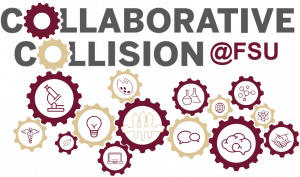 Each semester, the Office of Proposal Development hosts events called Collaborative Collisions. These events encourage researchers from all FSU Colleges, Departments, and Centers to come together and discuss potential collaborations around specific topics. In the past, topics have included "Smart Cities," "Environment," and "Mental Health and Well-Being." "The goal of Collaborative Collision events is to foster interdisciplinary collaborations by providing an atmosphere to discuss researcher's expertise, potential contributions to a research team, and partnerships to enhance their own research," says the Collaborative Collisions webpage. This year, the Office of Proposal Development announced it will fund one grant for up to $25,000 to the most promising new team that comes out of each event.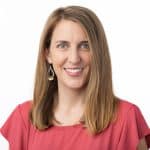 Dr. Mollie Romano from CCI's School of Communication Science and Disorders was the recipient of this grant from the event on Children and Families as a Co-PI along with her collaborators, Dr. Jessica Bahorski (PI) and Julie May McDougal (Co-PI). They will be testing a responsive feeding intervention for infants who are at high risk for obesity and lower developmental outcomes due to socioeconomic status (SES). "Children growing up in poverty are more likely to develop health conditions related to obesity like diabetes and heart disease as well as other developmental concerns like language delays because of conditions associated with poverty," Dr. Romano explains. "In order to prevent negative outcomes associated with obesity, we are testing an intervention that teaches mothers and other caregivers responsive feeding strategies. Simply put, it teaches parents that babies will signal their hunger with clear cues, and will indicate fullness with cues as well. Parents need to know what those signals look like and how to respond in the moment. We think this has the potential to benefit infants in two ways- first by ensuring that they get the right amount of nutrition, and second, by teaching caregivers to read those very early cues, they are supporting child communication."
This project will be a collaboration between CCI's Communication and Early Childhood Research and Practice Center, the College of Nursing, and the Center for Prevention and Early Intervention's Early Head Start Program. Julie May McDougal leads the Early Head Start Program in Gadsden County. There, her team of home visitors will coach families during their routine sessions to support responsive feeding interactions.
"We are so excited about this new opportunity to collaborate across colleges and community agencies to support infants and caregivers at risk for health and developmental concerns. It gives us a chance to do important research, but also to support local families in the process," says Dr. Romano.
The next Collaborative Collisions event will focus on Big Data and will take place on October 28 from 4-7PM. Visit this website for more information on how to participate.