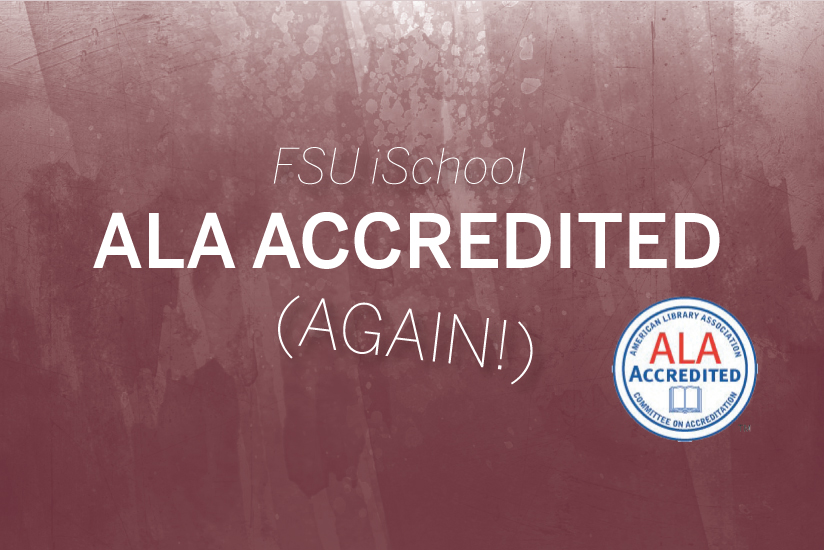 The FSU School of Information (iSchool) is pleased to announce that its Master of Science in Information has been granted Continued Accreditation status by the American Library Association (ALA). The review process for reaccreditation occurs every seven years.
"The School of Information is delighted with the Committee on Accreditation's decision to continue the accreditation of our MSI and MAI programs for the next seven years," said iSchool Director Kathleen Burnett, Ph.D. "The School was founded in 1947 and it's library & information master's programs have been continuously accredited since 1952. From a tiny jewel of a library school, the School of Information has diversified and expanded to include 5 degree programs at four levels (bachelor's, master's, specialist, and Ph.D). A talented faculty and staff are dedicated to furthering research, teaching, and service in the information professions, and our graduates are frequently included among Library Journal's Movers & Shakers."
With the ability to completed online, the iSchool's Master of Science in Information enables students to gain a solid foundation in areas such as general librarianship, information architecture and technology, information needs and services, youth information needs and services, as well as design an individualized program of study. Students gain the theoretical basis needed to build the knowledge, skills, and abilities necessary to function effectively in professional positions within Information Studies.
A member of the iSchools consortium, the iSchool is not only accredited with Continued status by ALA, but FSU is also regionally accredited (a requirement of ALA-accreditation) by the Southern Association of Colleges and Schools (SACS).
Click here to learn more about the iSchool's Master of Science in Information.