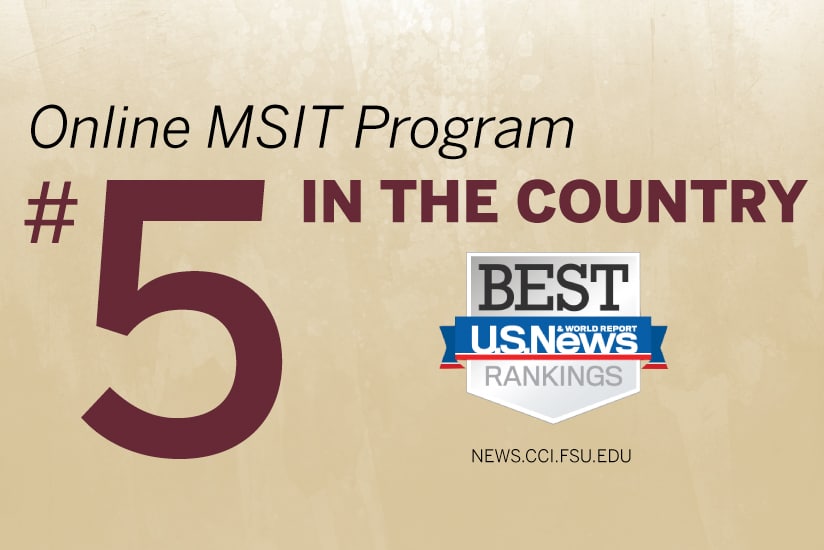 According to the latest U.S. News and World Report 2020 Best Online Programs rankings, FSU's online MSIT program offered by the School of Information (iSchool) is ranked No. 5 among public universities. After being ranked No. 7 in 2018 and 2019, this two-rankings rise to the top five is an exciting milestone.
"It is great to see the planning and hard work of the faculty, staff and students in this program get recognized," said Larry Dennis, dean of the College of Communication and Information. "Our faculty and staff's focus on student success continues to pay off for our students and alumni."
Graduates of the MSIT program have gone on to do incredible work in the IT field and beyond. Robert J. Fuselier, Jr., is one of those graduates, and he's the director of FSU's Office of Distance Learning. "The time I spent in the MSIT program with the FSU iSchool was one of the most enjoyable and formative educational experiences of my career," he said. "The instructors were fantastic: knowledgeable, challenging, and committed to my success. The relationships I built with my peers, many practicing IT professionals, were valuable and enduring. Ultimately, the MSIT program helped me develop and refine the leadership and management skills I needed to successfully run a large, technology-rich organization."
The Master of Science in Information Technology (MSIT) explores areas of information architecture, information quality assurance, usability, IT governance, information systems management, IT project management, user experience design, IT documentation/technical writing and communication, distributed information systems, data management and mobile information systems. Providing expertise in information technology, individual and organizational behavior, and information management, this degree provides expertise to develop the IT skills needed to work effectively within information provision environments.
"It is gratifying to have this recognition of the quality of our MSIT program so early in its development," said Kathleen Burnett, iSchool director. "The program's focus on technology, innovation, leadership clearly resonates in an era when connecting people, information, and technology is of paramount importance."