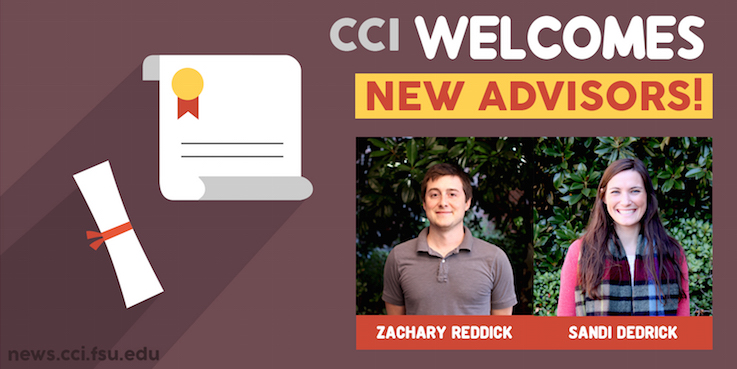 The College of Communication & Information welcomes two new advisors!
Sandi Dedrick graduated from FSU in 2011 with a B.S. in Dietetics and went on to earn her Master's in Social Work in 2014. Previously, she has worked at an in-patient psychiatric hospital, a residential facility for women undergoing substance abuse/mental illness, as a clinician with children with behavioral concerns, and as a program coordinator at a non-profit organization. In her spare time, she loves to read, work out, attend plays and concerts and play with her two rambunctious kittens, Scout and Finch.
Zachary Reddick earned his B.A. in History from Valdosta State University in 2011 and his M.A. in Asian Studies from FSU in 2015. As part of his studies, he has traveled to Yangzhou University and Donghua University in China and worked at FSU as a graduate TA, an operations manager and an administrative coordinator for the College of Social Science and Public Policy. In his spare time he enjoys practicing martial arts, drinking tea, writing and playing video games.
Welcome to the team, Sandi and Zachary!