On April 13, four FSU students, three of which belong to the School of Communication, were recognized by the Associated Press Broadcasters Association for their outstanding reporting and broadcasting skills. Reporter Sophia Hernandez and editor Celine Manning received the "Best Light Feature | Long Format" award and editor Andrew Salinero, along with Sports Management major and reporter Blake DeVine, won "Best Sports Feature."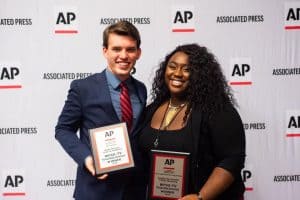 The students were up against 579 entries from 37 other radio and television stations. Salinero described his experience at the award ceremony as "interesting because of the representation of students from across the state of Florida." Many of the other entries came from schools such as FAMU or the University of Florida which both have reputable journalism programs.
"For both entries from Florida State to be entered and to place first amongst these programs is a testament to the education that we receive and the talent of the students at this university. Winning the Best Sports Feature Award is big not just for Blake [DeVine] and me, but for Florida State's Digital Media Production program as well," Salinero says.
Salinero and DeVine's feature highlighted Jacques Patrick, a former running back on FSU's football team. You can watch it here. Salinero hopes that winning this award, paired with the newly established Gerald Ensley Emerging Journalist Award, will inspire more students to explore new ways of storytelling.
Hernandez and Manning produced a feature called "Sod Talk Legends" which put a spotlight on the first African American men to play on FSU's football team. "Spending the weekend with the first four African American football players and getting a pass to film them on the football field were occurrences that only FSU could have made me experience. My reporter, Sophia Hernandez, was my right hand through this process and such a great energy to work with. None the less, the First Four were respectful, kind, and inviting. This experience couldn't have been better for me and I thank everyone who was a part of it," says Manning, who was the editor and cinematographer for the piece. You can watch it here.