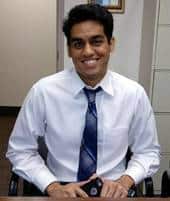 Information Technology undergrad student Ahmad Qureshi, passed away, Sunday, October 29, 2017 at UF Shands Hospital, Gainesville, Florida.
Ahmad Qureshi was an exceptional young man!  Ahmad was a humble, soft-spoken, delightful, gentle and caring, outstandingly intelligent, handsome young man with an immensely strong and soft heart, and so many other hidden qualities.
Ahmad Qureshi, 20 years old, a loving son, caring elder brother to his own younger brother and to all of his cousins.  Ahmad would always lovingly ask anyone he met how they were doing and gave them warm big hugs with an everlasting smile.  Ahmad was accepted at Florida State University as a junior as he had already completed two years of college courses while a Chiles High School student. Ahmad was a FSU senior about to graduate this December 2017 with a Bachelors degree in Information Technology and a perfect 4.0 GPA!  Recently, interviewed with General Motors Information Technology Innovation Center, in Austin, Texas for a potential opportunity after graduation.
Ahmad was handsome and stood tall at 6' 2", loved to play basketball, a huge fan of the San Antonio Spurs team and always looked forward to the NBA season.  Ahmad loved running especially in the winter and biking in the neighborhood; while passing by and waving at his uncle's and aunt's in the neighborhood.  Ahmad had a huge appetite who loved Marco's cheese pizza and grilled cheese burgers with no tomatoes.
Ahmad Qureshi was a strong young man and didn't shed a single tear while at the hospitals. Always telling everyone that he was looking forward to getting back home to his family and all his favorite activities and moving to Austin, Texas for his professional career.
All who knew him are echoing the same feeling "He was a silent lion and just like his grandfather!"