Hanya Noussier, a graduate student earning her Masters in Public Interest Media and Communication has been named one of the "Most Promising Multicultural Students" by the American Advertising Federation (AAF). 
The AAF's Most Promising Multicultural Students (MPMS) program connects the advertising industry with the nation's top multicultural college students. This experience provides opportunities to recruit fresh talent and further prepare the advertising industry's best young prospects.
Each year, the selected MPMS individuals have the opportunity to meet with professionals from top advertisers, media companies, and advertising agencies at an exclusive recruiting expo. This year, the expo was held from February 13-16 in New York City. 
"It means a lot to me to be selected as one of AAF's Most Promising Multicultural Students; for me to see my young and ambitious self-dream slowly becoming a reality feels surreal," says Noussier. "It is an honor to be amongst the nation's top multicultural students and be able to network and connect with industry leaders and executives. It feels incredibly great to make my family, favorite professors, my team, and everyone I love and care about proud of me." 
Hanya uses the most out of her time while at CCI by being involved in multiple student organization leadership roles and as a Graduate Research Assistant. 
When asked about how she has utilized her time at CCI to prepare for this selection, Noussier replied, "My current boss Mafe Brooks has taught me invaluable professional lessons using her mantra of the most generous philanthropic giving strategies: time, talent, and treasure and the importance of networking. Professor Dr. Kelly Kelly was my advertising strategy go-to person as part of the AAF National student advertising competition (NSAC) team during my time as an undergraduate student."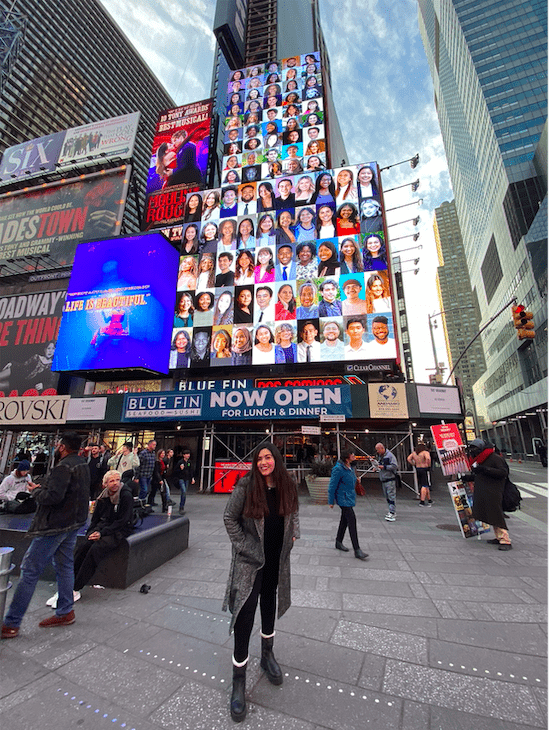 "Dr. Sindy Chapa walked me through everything I needed to know about account planning, data analytics, and multicultural marketing research and gave me the opportunity to be part of an amazing team at the Center for Hispanic marketing and communications, and Dr. Jaejin Lee, who is assisting me with my thesis," continues Noussier. "Betsy Crawford recommended me to various positions and opportunities across campus. All these individuals and my numerous student organizations leadership roles that I was part of as part of the CCI family helped me grow personally, professionally, and academically to excel in what I do."
After graduating in the summer Hanya plans to become a part of the media industry. "Data and creativity go hand-in-hand to bring objectivity and accuracy when making informed media decisions to ensure accurate revenue streams and customer satisfaction. I aim to be part of the media industry because it is all about innovation, problem-solving, and strategy." 
Congratulations Hanya! CCI is so proud of you!