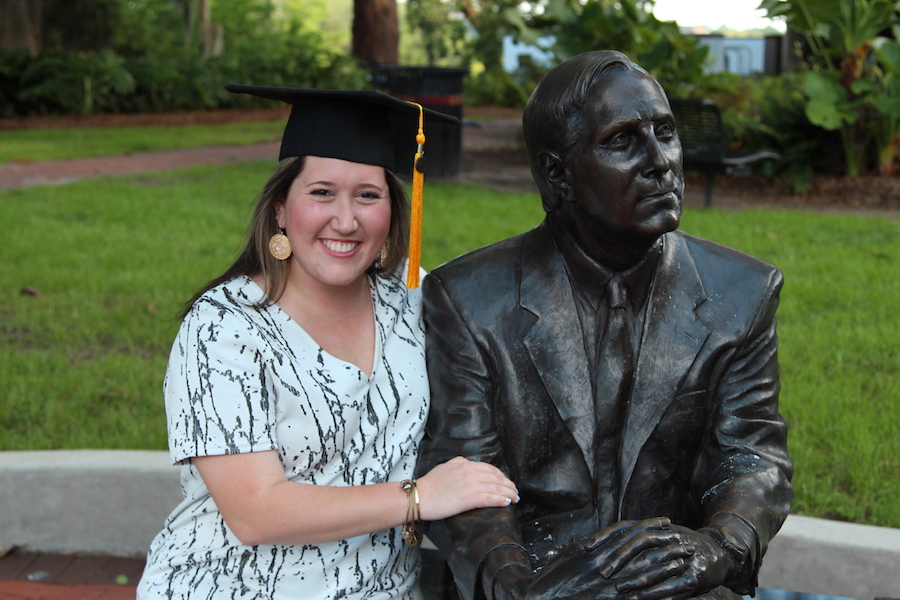 Meet Sarah Cooper, current student in the Master Program for Speech-Language Pathology.
The Basics
Name: Sarah Cooper
Degree: Masters in Speech-Language Pathology
Anticipated Graduation: 2018
Hometown: Weston, FL
Meet Sarah
Who do you admire and why?
I admire my parents. They are the most giving and supportive people I know. I hope that I am lucky enough to be a parent like them someday.
What Jeopardy category could you clear, no problem?
"Finish the Lyrics."
Favorite snack?
Anything crunchy or pineapple chunks.
Best account to follow on social media?
My Instagram… I follow back.
Best piece of advice you've received?
Do what you love.

Life as an FSU Student
What made you choose your major?
Since high school, I've been interested in anatomy and physiology- specifically the inter workings of the brain. I additionally always like to lend a helping hand, when you put those two together: Speech-language pathology. 

What does your average day look like?
The Warren Building is my home base. I have three clients that I am responsible for making treatment plans for, see patients at a hospital, and I'm taking four classes. The day is quite packed, but I enjoy staying busy and love the feeling of productivity.
I always make time for my loved ones and for Netflix, of course!
Your favorite study spot on campus?
When I make it over to the main campus, I like to set up shop in the William Johnston Building.
What's your dream career?
If I wasn't getting my MS in SLP,  I would love to be in a Broadway production.
Share a notable (funny, embarrassing, exciting) experience you've had at FSU?
I was a University Ambassador during undergrad and that was the greatest experience I had at FSU. I was able to share my love for FSU with prospective students and their families by sharing personal stories and giving fun facts about our beautiful school. FSU is my home away from home, and that's what I hope for the students and families that come to visit.
Have you participated in any internships?
Last summer, I interned with Allscripts, which is a healthcare IT company based in Chicago. It was absolutely incredible and so cool to work in a corporate headquarters in a big city. I've also interned with two companies out of Domi Station here in Tallahassee: Cuttlesoft and Unhoused Humanity.
Are you involved with student organizations?
When I was in undergrad, I participated in the Homecoming Executive Council, Resident Assistant, VP of the Student Alumni Association, University Ambassador and CCI Student Leadership Council.
Who do you look to for inspiration?
My professors, supervisors, friends and family.
Have you participated in any internships? Tell us about them.
This summer I will be completing my community practicum placement at TMH in an inpatient setting.
How do you handle school-life balance?
My agenda keeps me sane. I'm so thankful for my loving boyfriend who is always there to comfort me after a long day.
What advice would you give yourself in college?
Choose the school where you feel most at home and where you can see yourself being successful. Plus- garnet and gold looks good on everyone.
What motivates you?
Speech-language pathology is a profession where I'll constantly be helping and educating patients and their caregivers. I'm looking forward to being a part of someone's road to recovery.