Ph.D student Victor Lugo is making an impact in the field of speech-language pathology.
His path to higher education wasn't the most traditional, but nevertheless, he is making strides to positively impact the world of teacher activism, education policy, and student achievement in US public schools.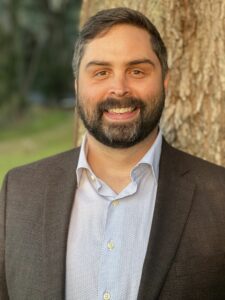 Lugo first earned his Bachelor's degree in English back in 2012 from the University of Mary Washington. He wasn't introduced to the world of speech-language pathology until his senior year of college, but it immediately sparked his interest. Following his graduation, Lugo decided to step away from higher education in order to pursue a military career. He joined the US Air Force, where he served as an Operations Intelligence Analyst for four years. During that time, Lugo worked diligently with military leaders to research military activity in Europe; information that would directly impact the Air Force's strategic goals. Following his departure from the military in 2017, Lugo began pursuing his Master's degree in speech-language pathology from Old Dominion University. During this time, he got involved with NSSLHA, where he would go on to serve as the president for the Old Dominion chapter.
Lugo is currently working towards his Ph.D in Communication Science and Disorders here at FSU. In October of 2021, he worked with Dr. Wood and Dr. Romano of SCSD to publish their research in the Journal of Speech Language Hearing Research (JSLHR). This year, he had the opportunity to present on Diversity, Equity, and Inclusion at the Southeast Regional Clinical Translational Science Symposium. Most recently, his work on SLPs and advocacy was published in the LSHSS. The intention behind the study is to empower SLPs and teachers to help shape policies that positively affect the student experience.
"Historically, the voices of teachers and speech-language pathologists have been underrepresented in education policy making. It is essential to explore additional avenues of advocacy training to improve lines of communication between educators and policymakers and ensure educators help shape the policies that govern their practice and affect the experiences of those they serve." said Lugo.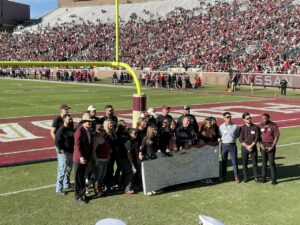 He told CCI that his experience as a non-traditional student at FSU has been exceptional. "Being a non-traditional, student-veteran at FSU has been an incredible experience," he said. "The Student Veterans Center does such a great job honoring their student-veterans and has provided me with so many opportunities to experience all of the awesome events FSU has to offer. The College of Communication & Information continues to do a fantastic job highlighting the achievements of their students and giving them a voice to share their personal and professional victories."
After the completion of his Ph.D program, Lugo plans to pursue a tenure-track professor position to continue investigating the intersection of teacher activism, education policy, and student achievement in U.S. public schools.
To read more about Lugo, check out his recent feature in LSHSS here!