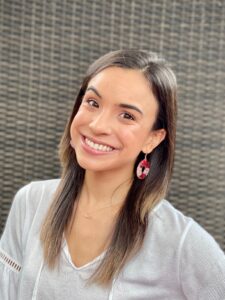 Katherine Perez, a first-year master's student in the Speech-Language Pathology program, was awarded the American Speech-Language-Hearing Foundation (ASHA) Minority Scholarship. ASHA awards scholarships to exceptional graduate students who have participated in study programs within the communication sciences and disorders field and offers up to three scholarships nationwide for graduate students who are members of a racial or ethnic minority group.
"From my research in my undergrad to the intense application for this scholarship, and now with the rigor of graduate curriculum, I have always strived to put forth my best effort. I believe the quality of my contributions reflects my passion. Therefore, seeing my drive and work ethic acknowledged by such an honorable scholarship makes all of my effort worth it."
Perez plans to dedicate more time to her studies without the financial stress of paying for classes with the support from the scholarship. After she receives her master's degree, Perez plans on returning to her hometown of Miami to begin her career as a bilingual speech-language pathologist and work with children.
"When I started learning about all the nuances that contribute to language, I was fascinated," she said. "I saw the impacts on communication firsthand while working with children with autism spectrum disorder." The KiDDs grant program at FSU sparked her desire to collaborate with PT, OT, and special education professionals in order to holistically serve patients in her future career.
Perez would like to thank her loved ones for their support in her education. "None of my accomplishments could have been possible without the constant support from my loved ones. My parents have made countless sacrifices to ensure my sister and I became the strong, empowered women we are today. My sister's success in her own field is another form of inspiration, constantly driving me to take advantage of every opportunity and thrive within it. For their influx of positivity and love, I am forever grateful."