Most college outreach revolves around working with peers or providing advice as a mentor to K-12 students.  The Community Outreach Group (COG) students was launched as a project of out the Information Technology Leadership course at FSU in 2012 to work with K-12 schools and STEM clubs in Leon County.
Over the years, the group has visited classrooms, held summer camps, hosted Saturday coding workshops and been actively engaged with local schools.  In 2014, the group launched as an RSO at FSU. Three years ago the group started working with senior citizens in the community to provide technology training and assistance at local venues. 
Previous work:
Summer 2013 – Classes at Woodville Branch Library for seniors
Fall 2013 – Supporting Residents at Allegro
Spring 2014 – Classes at Woodville Branch Library for seniors
Summer 2014 – Classes at Cherry Laurel Residential Community
Fall 2014 – Classes at Westminster Oaks Living Community
Spring 2015 – Supporting Residents at Allegro
Summer 2015 – Supporting Residents at Allegro
Fall 2015 – Classes at Tallahassee Senior Center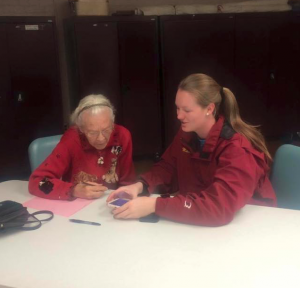 This Spring, the group is working with the Tallahassee Senior Center and Allegro Senior Living providing bi-weekly visits acting as a resource to residents. During their one-hour sessions they help small groups and work one-on-one to answer any technology related questions the seniors may have. COG has helped with everything from showing residents how to download apps to a phone, formatting documents for a computer, and helping set up a social media presence so that the seniors can keep in touch with friends and family.
COG and students from the IT Leadership class will continue to hold these outreach events for the rest of the semester and COG President Madison Allen is always searching for new members to grow and develop the program, "Our club is open to all majors and our diversity will make us more helpful for those in need. Plus our members get so much benefit from COG, including networking, leadership roles, service hours, and we get to work with an awesome group of engaged leaders." To get involved, students should join the Community Outreach Group Facebook page.