Author: Sydney Gilmore-Duffey
Last Sunday, November 26, 2017, the Florida State University Women in IT/ICT Sharing Experiences (WISE) group had the wonderful opportunity to travel to Atlanta, Georgia to visit with several of the city's most influential businesses. Accompanying us was CCI Associate Director of Development Mafe Brooks, Corporate Relations & Foundation Developer Jesse Torres, and CCI Associate Dean Ebe Randeree (who has been promoting WISE events locally and across the SouthEast for eight years). The overall goal of this experience was to connect with FSU alumni operating in the ATL area, gain exposure in a multitude of different business cultures, network with some of the area's strongest female leaders, and pursue new and exciting work experience opportunities.
"The Atlanta trip is a great opportunity to network with female business leaders, companies, and alumni in Atlanta. Our goal is to provide an environment for current students to network, find mentors, connect for internships and jobs, and build their professional skills. Many of these alums have benefited from previous WISE visits and are very supportive of our efforts." – Ebe Randeree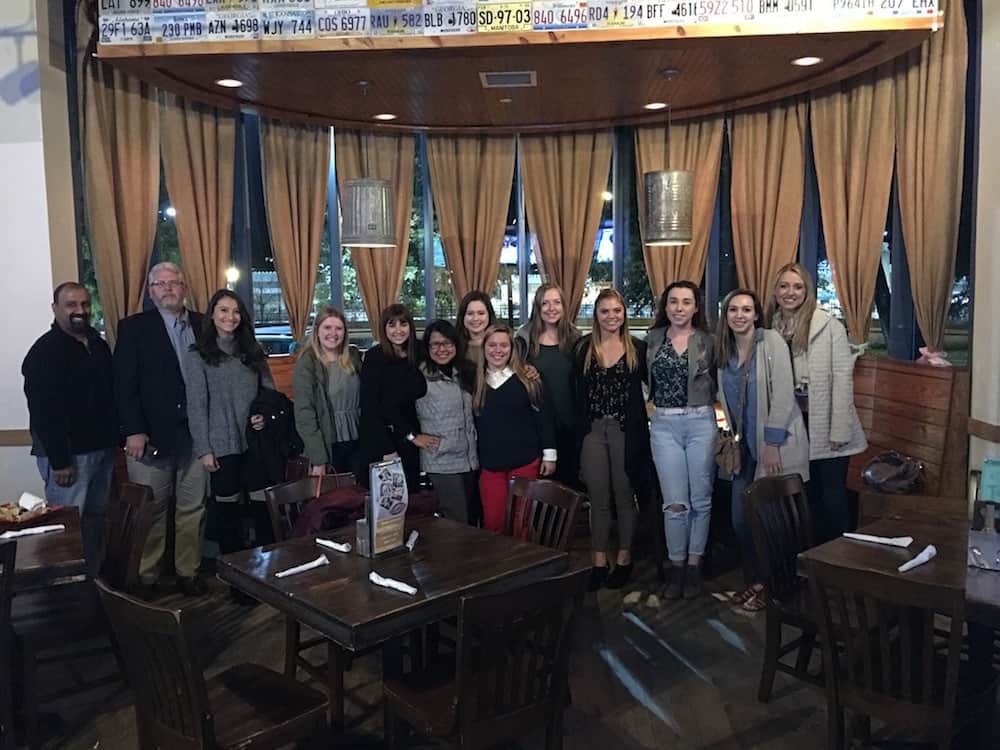 The first event of the trip, dinner with several FSU alumni, was held Sunday evening. At the dinner, each of us women were able to speak one-on-one with former students from the FSU College of Communication and Information who now reside in the Atlanta area. This experience was particularly enriching, because it provided the chance to speak directly with individual's coming from the same roots to build different pathways. Overall, the alumni dinner was an invaluable tool for sharing experiences and building new connections.
"I liked getting to sit down and have dinner with such a diverse group of alumni. They're all graduates from the FSU College of Communication and Information, but each of them have followed very different career paths. Hearing their stories definitely opened my eyes to the opportunities that are out there. They were so candid with their advice, and a few even helped me cope with graduating in the Spring. They've all been in my shoes not too long ago, so I loved getting their insight." –Brittany Hope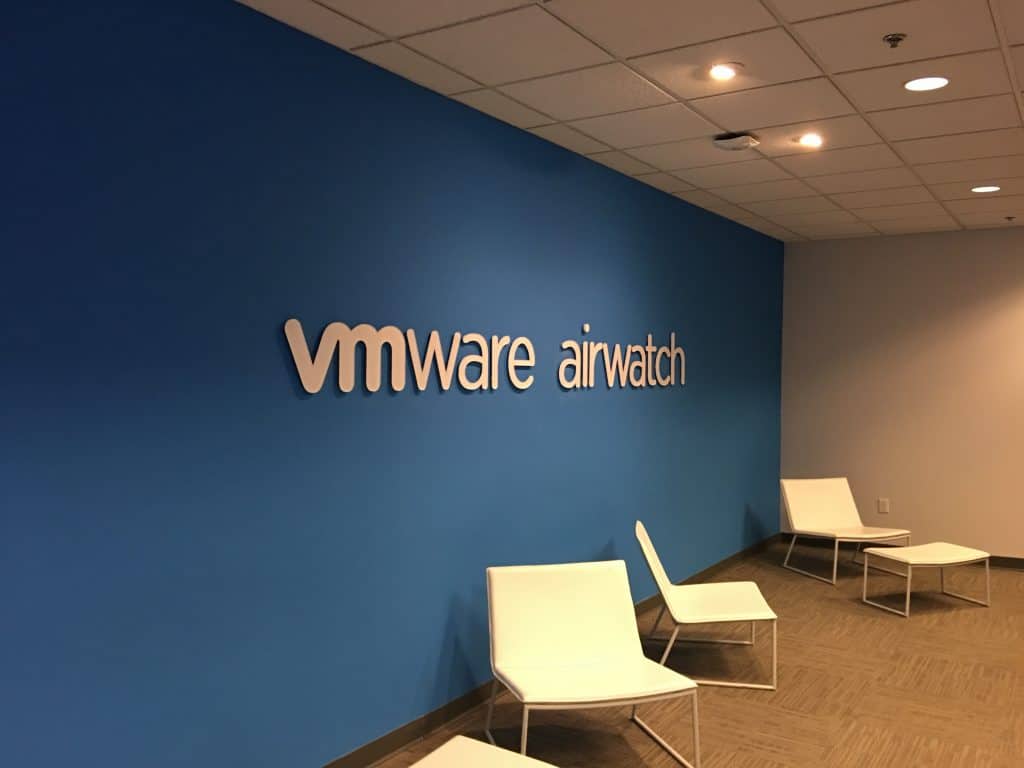 Monday morning (November 27, 2017) commenced day two of the trip, and the group immediately headed for VMware, a company specializing in virtualization and cyber security. Once we arrived, we were greeted by FSU alumni Kelby Mahoney, who gave us a brief introduction to her experience as a Consultant at VMware AirWatch. Afterwards, we were able to sit in on a women's leadership panel composed of Stephanie Gunter (Director of Global AirWatch Education Services), Akanksha Sehgal (Sales Engineer Manager), Arusha Rai (Java Developer), and Lisette Reijers (Localization Team Leader). These women each gave a detailed look into their career paths, as well as their experiences as females working in a male-dominated industry.
Following the visit to VMware, our next stop was Nebo Agency. Named after the Assyrian God of Wisdom, this company takes a self-described "human-centered' approach to traditional marketing. Immediately upon walking into the office, a high-energy, contemporary work-culture was exhibited. From there, we were able to tour the stunning modern-industrial work space, as well as participate in a Q&A session with several Nebo representatives. These reps included Laura Vellidis (Public Relations Specialist), Sherry Hopkins (Senior HR & Internal Operations Manager), Meleigha Millman (Paid Media Specialist), Christy Williams (Senior Digital Project Manager), and Cassie Kaye (Senior Copywriter).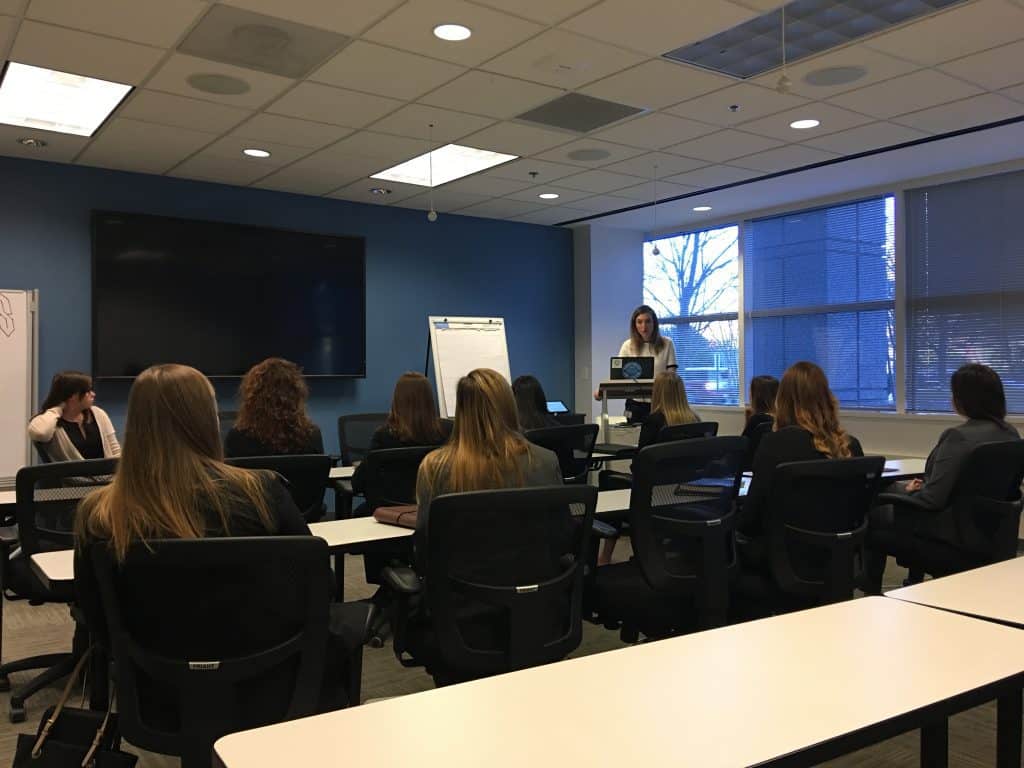 "One of my favorite parts of the trip was getting to see what working in different industries is like. From small agencies to large corporations, there are many different processes, but in the end, everyone is working for the client. I enjoyed getting to see both sides and meeting amazing women who are leaders in their fields." – Alyson Kapper
Finally, the ladies and I concluded the day by making a visit to State Farm. Once we reached the Fortune 500- company's office, we were able to connect with FSU and STARS Alumni, Courtney Lisenbee(Scrum Master), as well as Melissa Osborne (IT Analyst), and Ashley Spencer (Test Analyst). Here, we were presented with the opportunity to have a brief Q&A session with the women as well. During this session, we were able to gain a more comprehensive understanding of State Farms internal operations, management style, employee expectations, and overall corporate culture.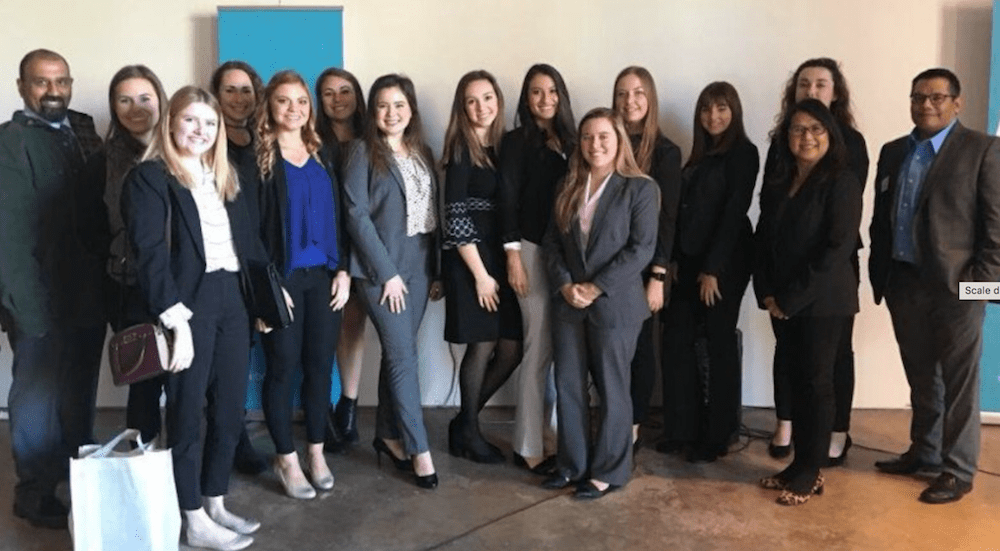 After a full day of company visits, we finally headed out to fellow WISE member Aly Kapper's family restaurant for another FSU alumni dinner. Here, we were once again able to discuss failures and successes with the individuals only a few years ahead of us in their career paths. Looking back on the experience, its easy to identify these dinners as a helpful tool in receiving critical advice regarding the pivotal career choices that lay ahead of us, and for that reason, we were all grateful to establish these connections.
On Tuesday morning, we woke up bright and early yet again to conquer our last few visits before heading back to Tallahassee in the evening. The first stop of the day was Focus Brands, followed shortly afterwards by the Metro Atlanta Chamber. If you're not familiar, Focus Brands is a mega-franchisor within the food industry that most notably operates Carvel, Cinnabon, Schlotzsky's, Moe's Southwest Grill, Auntie Anne's, and McAlister's Deli. Once inside the office, we were able to get a look into the welcome center, tester kitchens, and the operation centers. The most influential part of our visit however, came from listening in on a woman's panel, and hearing from Kat Cole (COO and President) herself. The women's panel, composed of Jessica Osborne (Director of Brand Marketing at McAlister's Deli), Valerie Workman(Vice President, Legal at FOCUS Brands), Casey Haibach (Director of Talent Acquisition), Kerri Christian (Vice President of Marketing), and Judy Sisouvong(Training Manager), was dedicated to discussing the various tribulations and triumphs each woman had encountered over the span of her career. Similarly, Kat Cole's discussion focused on the defining experiences within her career that have made her the strong leader that she is today. Each of these women left a lasting impact on our group by sharing their unique stories and providing a source of encouragement towards us all.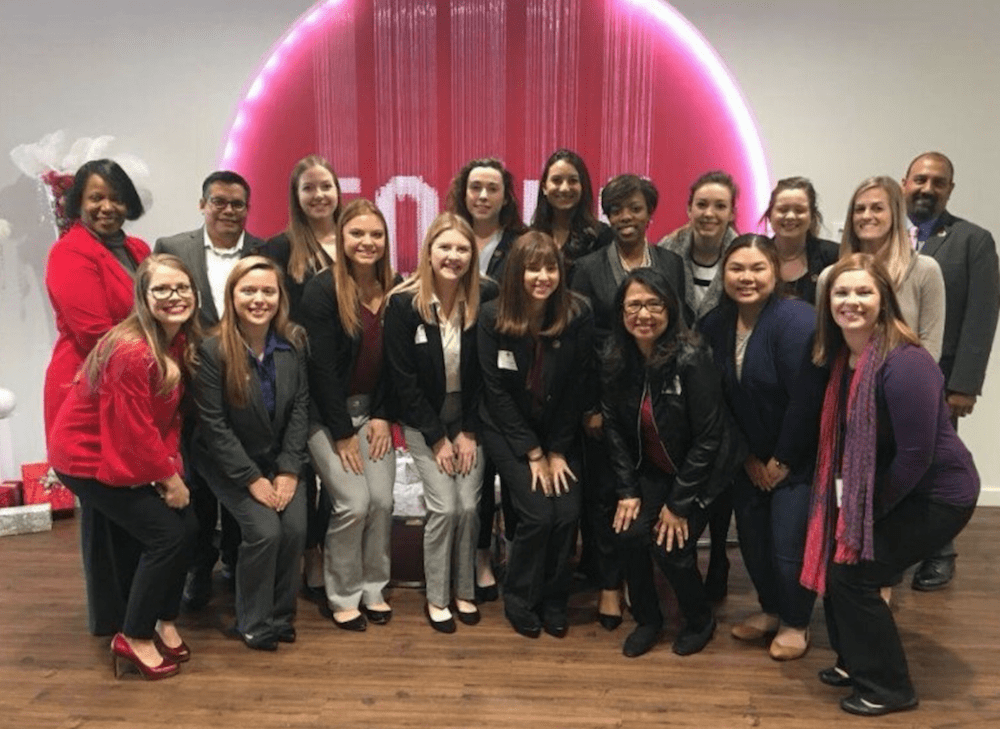 "My favorite part of the entire trip was meeting Kat Cole. It was honestly inspiring to be able to have a conversation with such a strong and influential woman. As a young female professional, I am constantly striving to be the very best I can be, and Kat gave me profound advice that I will definitely apply towards my future professional career." –Orlagh O'Rourke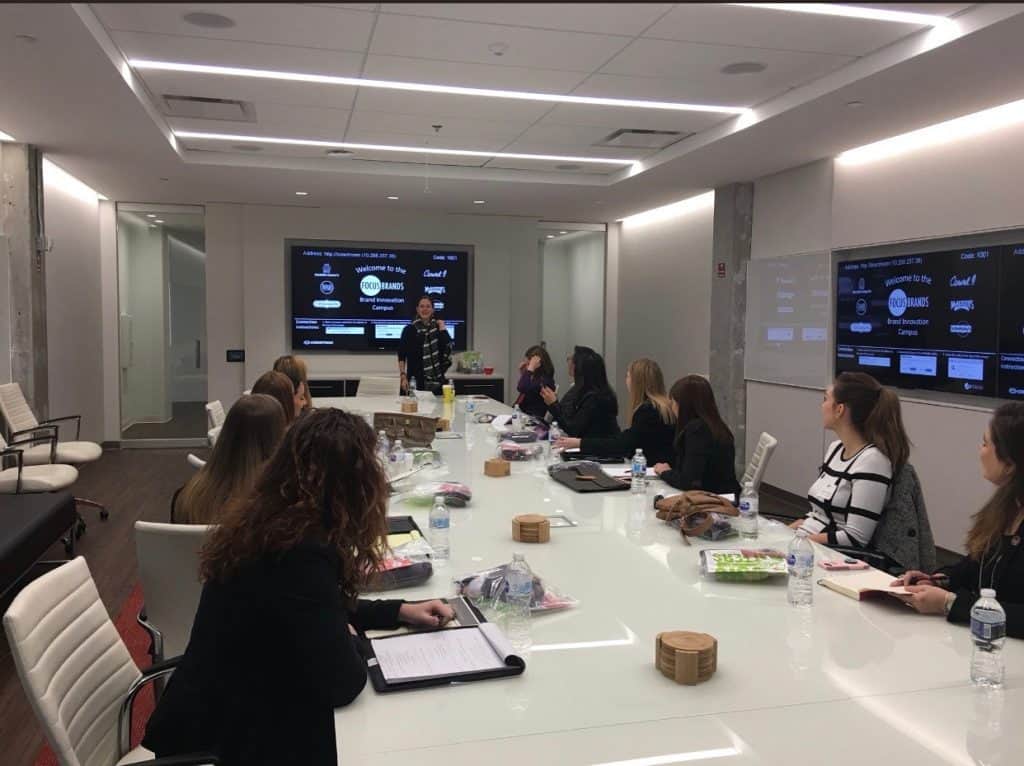 As mentioned above, the last stop before heading home was the Metro Atlanta Chamber. This nonprofit organization focuses its efforts towards stimulating growth and progress in its home city. Here, we were able to meet up with FSU alumni Sara Saxner(Manager & Regional Partnership), as well as Kari Hackett (Vice President of Investor Relations & Development) and Ashley Cleveland (Brand Strategist). These women graciously took the time to speak with us about the various resources and opportunities the city of Atlanta has to offer young professionals like ourselves.
Overall, this trip provided a remarkable opportunity for us women of WISE to further our professional development. On behalf of the group, I would like to extend a tremendous thank you to all of the individuals and organizations who participated in making this event such a positive and significant contribution towards our futures.
"This trip was the most immersive way, in my opinion, to get to know a company and the communications industry before actually working within it. I was able to make incredible, meaningful connections with so many professionals in the Atlanta area, and I look forward to maintaining these relationships and learning more from them in the future."- Felicity Warner