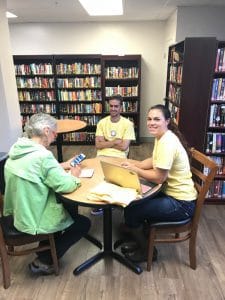 Each semester, a different group of students from the College of Communication & Information (CCI) IT program have been making a splash with local senior citizens.  They have been volunteering throughout the region over the past five years at the Woodville Branch Library, Cherry Laurel Residential Community, Westminster Oaks Living Community, Tallahassee Senior Center and the Allegro Senior Living Community. Students assist seniors with technology questions, device maintenance, and general tech help.
This past Fall, the students met at the Tallahassee Senior Center twice a week working on topics ranging from understanding cellular devices to help with the administration of a professional website.  The group, led by students April Bradley, Andrew Vassallo, and Richard Johnson, made a tremendous difference in the daily lives of those senior citizens who needed a little extra help understanding their smartphone that their son or daughter bought them. Although the seniors preferred to meet on Fridays, others still managed to become regulars on Mondays.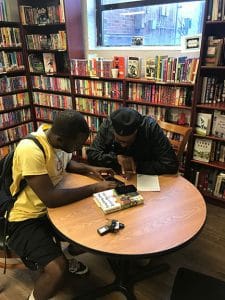 The most common issues that the students saw all seemed to center around the use of a smartphone. The seniors brought in many different types of smartphones for help with understanding how to send an email, clear notifications, connect to wireless internet, check voicemail, and change font sizes. One visitor also brought his flip phone and wanted to learn how to send text messages, including how to type them on the small keyboard.
One senior also requested help with administration of a professional website throughout the semester.  Other less common issues centered around tablets and music apps, as well as an explanation as to how "the cloud" works.  According to April, "smartphone troubles were a common theme for the seniors."
Andrew reflected, "We, as IT students, take many of these topics and terms for granted as digital natives; helping the seniors understand their devices as well as helping them to communicate using them was very rewarding."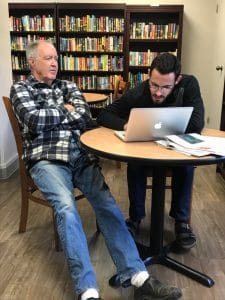 Kristy Carter, the Assistant Program Supervisor for the Tallahassee Senior Center, has been a strong partner with CCI over the years.  She facilitated the process and promoted the service to seniors.  According to Kristy, "through the partnership with FSU students in a one-on-one setting, many seniors were able to receive technology assistance they needed."
Quick surveys of the seniors showed that they enjoyed their work with the students and the assistance they received.  A new group will take over the project in the Spring to help with new holiday tech toys – stay tuned for details.