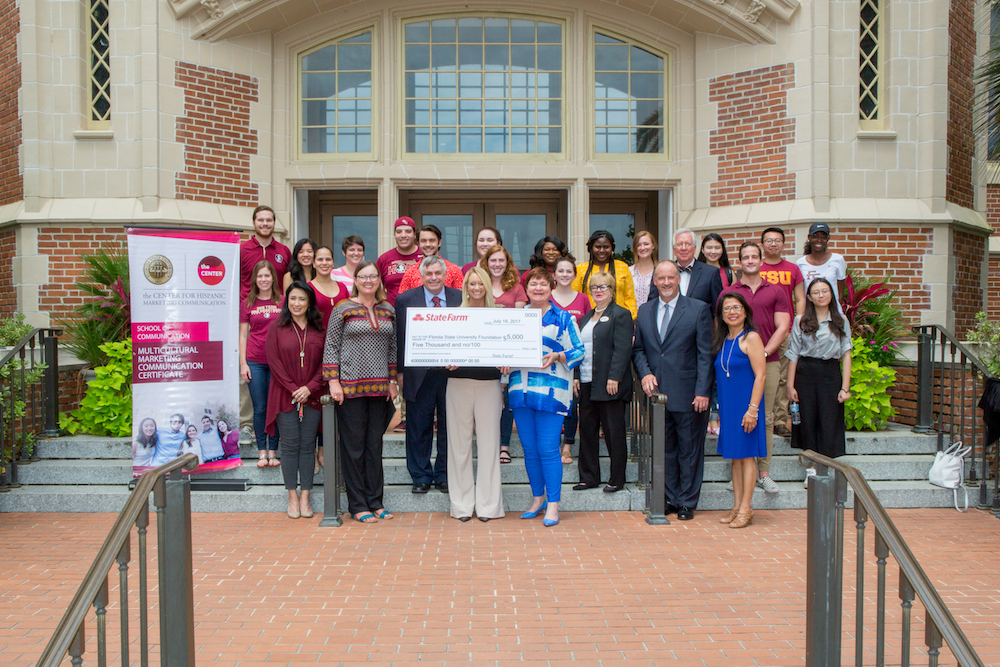 On the steps of Westcott, State Farm presented a check for $5,000 to the Center for Hispanic Marketing Communication at Florida State University.
The donation is the first from a community partner to support the Felipe Korzenny Endowment campaign, which launched in June 2017. Dr. Korzenny is a pioneer in Hispanic market research and the founder of the Center for Hispanic Marketing Communication Center at FSU. Known as The Center, it was the first of its kind in higher education, promoting research and educating students and professionals in understanding consumer behavior across various multicultural segments.
The check was presented to Provost Sallie McRorie, Dean Larry Dennis, School of Communication director Gary Heald, and Center director Sindy Chapa. The event was attended by students who study within the Center.
State Farm has been a consistent partner to Florida State University and has been a fixture at career fairs like Seminole Futures. Their donation to the Korzenny Endowment is a show of continued support. Within the College, State Farm's VP of Marketing, Leif Roll, serves on The Center's advisory board.
State Farm was represented by Vicki Catsimpiris and Bob Thompson, Regional Sales Leader. Dr. McRorie thanked State Farm for their generosity and leadership in kicking off the campaign for the endowment in honor of Dr. Korzenny.
"We are excited about State Farm's partnership with the Center and look forward to future collaborations," said Bob Thompson.
The Center is the first of its kind in the United States. Faculty and students operating the Center are conducting groundbreaking research, serving as a resource for the Hispanic and multicultural marketing industry and equipping students with cutting edge knowledge. For more information, visit their website.
Contact Mafé Brooks at mbrooks@fsu.edu or (850) 645-8312 to learn more about how you can support the Felipe Korzenny Endowment.