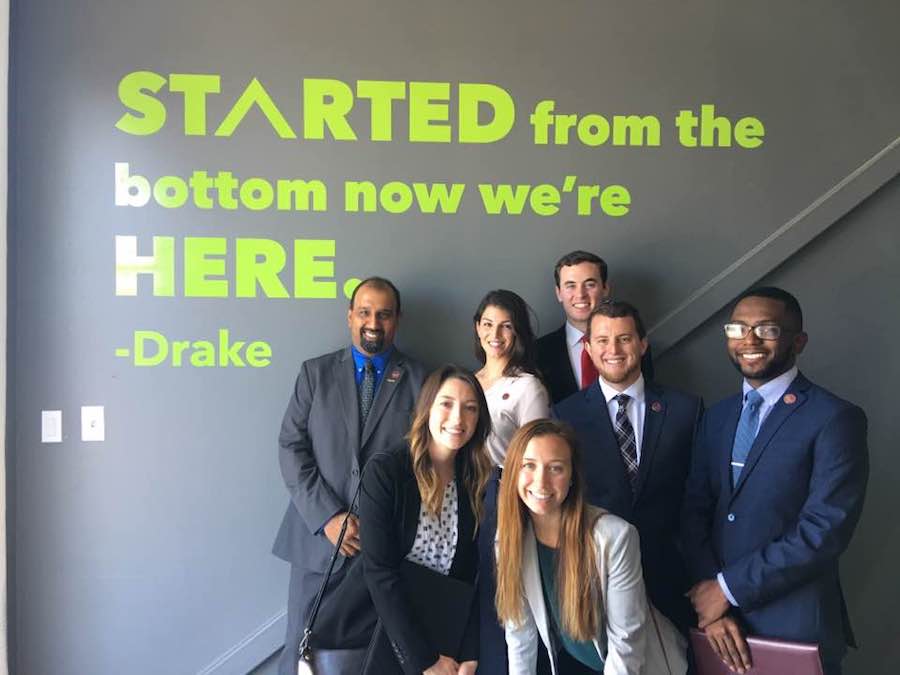 FSU Students Travel to Atlanta to Network with Major Companies
Earlier this month, FSU students Elicia Smith, Andrew Whitely, Hannah Young, Josh Goraum, Stephen Putnal and Kelsey McCool were Atlanta bound with associate dean Ebe Randeree to network with the Information Technology and Communication companies: The Home Depot, General Motors, Dalton Agency, State Farm, Atlanta Tech Village and MailChimp, to gain an inside look on day-to-day activities.
The first night of the trip, students networked with local alumni over pizza and asked questions about their careers. These alumni represented companies such as State Farm, GE Digital, General Motors, Atlanta Tech Village and E*Trade.
Bright and early, the tours began at State Farm's corporate office in north Atlanta. University Ambassador Cindy Scott led the tour of the office and left the students with impactful advice about the interview process.
When asked how she can stand out in a career fair, Scott responded, "If you can answer my questions with stories instead of checklists, I'll be able to remember you more so than the other applicants. I want to know that you are a personable individual that can work well with others."
Next was Atlanta Tech Village, and unlike the other companies, this company was an incubator for tech start-ups. Major applications like Yik-Yak and SalesLoft are success stories that "graduated" from Atlanta Tech Village. The building is designed on a price:size scale – the higher the floors, the larger the price and space. Start-up companies can rent out space, with the smallest starting with desk space in common rooms, escalating to full-sized offices on upper floors.
"The culture of ATV peaked an interest for me: the nap room, coffee stations, and roof top area view made the company stand apart," shared student Stephen Putnal.
Finally, a trip to Mailchimp, a marketing automation platform. The tour was led by alumni Alex Lehner, who works as a Front-End Developer. Located above the Ponce City Market, Mailchimp's headquarters has great culture. Employees use skateboards to navigate the office from their desk, to the kitchen, and even the "Tiki Room" that's used as a spot for employees to relax. Alex showed the group the office, offered resume tips and showed different spectrums of industries in the office.
"MailChimp has a great workplace environment, I appreciate their focus on putting out a quality product, and they work hard to ensure their services are helpful and efficient," Josh Goraum said.
Day 2 began at General Motors, where CCI alumni Katie Benton and Victoria Rice led a tour of the office before taking the group into a conference room for Q&A time. They shared insight on the benefits of working for GM for both professional and personal growth. Andrew Whitely's favorite piece of advice concerned the application process. If you're interested in applying, know the cars that GM produces. Apply early, as GM heavily recruits from FSU, and don't be afraid if you don't have all of the technical skills they seek. However, Benton and Rice both agreed that to land a job at GM, a degree in IT or Computer Science are essential.
Next was The Home Depot's tour, led by Senior Software Engineer and Florida A&M graduate, Frankie Lamar. The first floor of The Home Depot incorporated different dining options, a fully equipped gym with massage therapists, a pharmacy, an on-site doctor office, post office, and more. Upstairs contained offices for each sector of the company such as IT, marketing, sales, and management. The students then sat down with engineers, graphic designers and recruiters where they shared advice on applying and steps students can take to stand out, sharing that the more experience, the better.
Elicia Smith said that her favorite part of The Home Depot was learning about the company's values. "I loved that the employees (including corporate) wear orange aprons. It shows that they are all equal, and all work for the same purpose."
The
trip ended at the boutique advertising, PR and digital shop, the Dalton Agency. Although this company differed from the other tech-based companies, they offered insight in the world of communication.
Kaley Volkman, alumna of the ICT program, led the tour of the office and took the students into a conference room for a presentation that ended with advice such as, "don't be afraid to share your ideas when you're a new hire."
Hannah Young pointed out that she enjoyed the 1-on-1 time that the employee's spent with the students at the end of the meeting. "They invited us to connect with them on LinkedIn and some offered contacts for future internship or job opportunities."
All of the companies on the trip had one piece of advice in common: soft skills are equally as important as hard skills. Someone can be trained on how to do a job, but a great personality can't be taught.
STARS Alliance (Students & Technology in Academia, Research & Service) is a group of students that are dedicated to increase the participation of women, under-represented minorities, and persons with disabilities in IT and computing disciplines through multi-faceted interventions.
Find more information on CCI student organizations, visit: https://getinvolved.cci.fsu.edu/