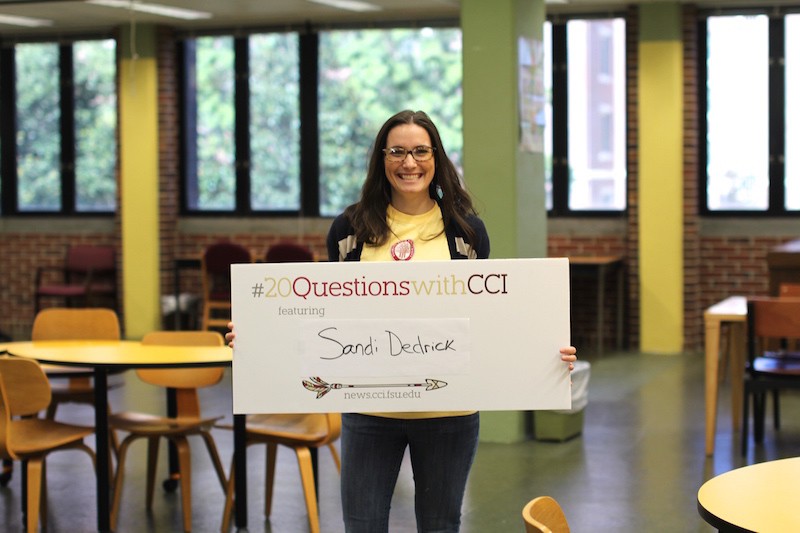 What was your first job?
My first job was working as a cashier at Publix.
If you were to write a personal memoir, what would you name it?
Sandi and Salty: The art of blasé affairs
Where did you grow up?
I grew up in Jacksonville, FL
What is your favorite class you've taught?
N/A
What is your favorite place to grab dinner in Tallahassee?
This is tough because Tallahassee has so many great choices for a foodie; but, my favorite go to would have to be Clusters & Hops or 319 Wine and Cheese (I love cheese).
What are your hobbies outside of work?
Working out, reading, and eating (I love trying new food and cooking)
What was your dream job as a child?
To be the sports nutritionist for the USA swim team
What is your favorite place you've traveled to or where would you like to go?
My favorite place I traveled to would have to be Prague, Czech Republic – I love the ambiance and I met my best friends there.
How many football games have you attended?
Too many – I am actually not a huge football fan (blasphemous, I know).
Proudest career/life moment?
Graduating with my MSW from pseudo-Hogwarts (aka FSU).
What's your favorite band?
Foo Fighters
What is the best piece of advice you've ever received?
No one can make you feel inferior without your consent – Eleanor Roosevelt
If money were no object, how would you spend your days?
Move somewhere capricious and own a bookstore/café and donate the rest to family/charities.
What is your favorite book and why?
The Harry Potter series because it taught me that even in the darkest of times, one can always find light and happiness (#always).
If you could be famous for something, what would it be?
Making a positive impact on the world
What Jeopardy category could you clear, no problem?
Science? Periodic elements is my jam.
Do you have any pets?
Yes, I have two cats-Scout and Finch (they are just as ornery and feisty as Jean-Louise 'Scout' Finch)
When did you start working at Florida State University?
September 2015
What was the last movie you saw in theaters?
Secret Life of Pets
What is the best part about your job?
Connecting with students-it is empowering, as an advisor, to feed off the energy and excitement of CCI students as they progress; not only through their respective majors, but their moments of clarity and the tangible ripple effect of joy as they interconnect their passions and major. It is also a bonus that the team I work with are endlessly empowering and challenge me to be a better advisor.