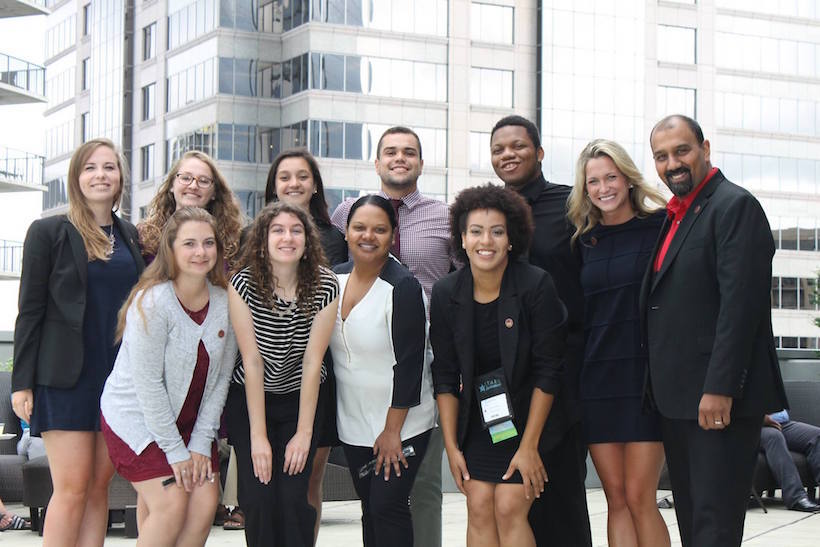 FSU students recently returned from Atlanta after presenting 6 posters, 3 lightning talks and delivering 3 presentations to computer science and technology students from 51 colleges across the country.  Funded by the National Science Foundation for the past 11 years, STARS Alliance aims to broaden participation of women and minorities in computing/IT through best practices and community building.   
The students that traveled represented multiple majors:
Hannah Brock – Information Technology
Allison Cannan – Management Information Systems
Lydia Clark – Public Relations
Zaymeen Deen -Information Technology

Miciaha Ivey – Information Technology

Nicolaus Lopez -Information Technology

Kylee McPhail – Criminology

Alissa Ovalle – Information Technology

Leah Ramsier –Information Technology/Creative Writing

Deanna Sand – Information Communication Technology
The students were accompanied on their 3-day conference by Dean Larry Dennis, Associate Dean Ebe Randeree and CCI Development Officer Mafe Brooks.  Students had the opportunity to meet with multiple CCI leadership board members as well as alumni in Atlanta to talk about internships and employment. 
Three IT Alumni and former STARS joined the group while in Atlanta: Megan McGilvray, Courtney Lisenbee, and Alex Lehner.
FSU STARS Alliance student Hannah Brock was recognized with the "Outstanding Corp Student" award, amongst 300+ students. Associate Dean Ebe Randeree was recognized for "Outstanding Corp Faculty Liaison" award.  
Brock will be taking over as the STARS President this year.  She was excited to receive her award and to start her final year at FSU. Of the conference, she said, "The conference is  an amazing experience, a great way to share ideas and collaborate both at FSU and with other schools." 
 The FSU STARS delivered 3 presentations on:
Building Talent Pipelines

Engaging Students on Campus

STARS in Puerto Rico
 FSU Stars chapter was voted Best Chapter two years ago and the group has consistently been recognized for its projects with awards in 8 of the 11 years that STARS has operated.
The FSU STARS Chapter focuses interventions on projects and programs that start at elementary school and progress through graduate school and on to careers in information technology and computing. The group completed 180 outreach activities last year, devoting 544 hours of actual event time and reaching 9370 students. CCI's Dean, Larry Dennis, was an original founding member.
Deanna Sand, an ICT major, has been active on school outreach projects with STARS.  
"I learned a lot about how each STARS chapter is working to further the STARS mission," she shared. "There were a ton of great ideas. It was especially cool to see the research STARS has invested in and how it's working to help underrepresented groups through the use of technology."