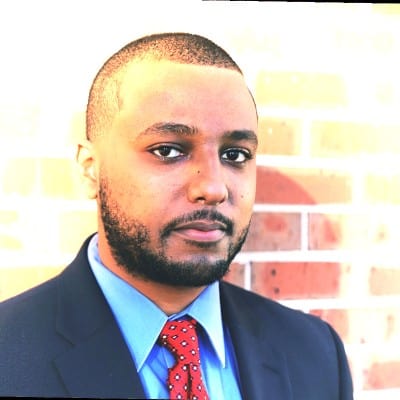 Aaron Redda ('20, M.S. Information Technology) is the definition of an iSchool success. On his many list of achievements, Redda was named the youngest member to serve on the FAMU NAA-Leon County Executive Board, as its fundraising chair earlier this month.
He also received the Jacqueline D. Montgomery Scholarship in Information Studies and a national scholarship award through Education Dynamics LLC from Malwarebytes, a company in Silicon Valley-based on his essay response explaining why he is pursuing a degree in cybersecurity. Redda wants to increase cybersecurity education, especially for people of color and women, by pursuing public and private partnerships. "I wrote about my desire for FSU and FAMU to build research partnerships to build awareness," he explains. "Although my essay was only 250 words, it made an impact on the selection committee."
As a Tallahassee native, it is clear to see where Redda's passion for his alma maters comes from. "I have always been drawn to the innovation and research done at both FAMU and FSU. After receiving my bachelor's and MBA from FAMU, I wanted to come to FSU to hone in on my technology skills and use them to solve some of the world's pending problems," Redda says.
While at FSU, Redda studied IT in the School of Information. "Getting a degree changed my life so much," he says. "It's crazy how many doors an FSU degree opened for me… The best thing was the number of connections I was able to make. I met Ivy league scholars, Big 4 (tech) employees, national security experts, army recruiters, state employees and so much more."
Redda currently works at the Florida Public Service Commission in the conversation section as a public utility analyst. "Working there has opened my eyes to the applications of cybersecurity blockchain technology in net metering or solar trading," Redda explains. He previously researched this topic with Dr. Demek from the Univserity of South Florida who selected him to serve as a remote graduate assistant next semester.
Redda will be assisting Dr. Demek's IT auditing course for Spring 2021 in the Lynn Pippenger School of Accountancy in the Muma College of Business at USF. While the class primarily teaches students majoring in accounting, Redda will help develop content to help drive traditional audit students into IT auditing.
Following this experience, Redda wishes to receive his Ph.D. from FSU where he can conduct high-level research on a myriad of topics from increased STEM participation, ISM, cybersecurity, information ethics, and policy. Overall, he would like to build research and workforce partnerships with other State University Schools in Florida. "People don't realize Florida is a national leader in public higher education, and I believe information/research sharing is critical in innovation," he says.
Although he knows this is ambitious, Redda's biggest goal is to simply make a meaningful change in the world around him. "People always say I dream big but I truly believe my FSU degree helped me gain the confidence to change the world."
We look forward to continue following Redda on his journey and wish him all the best in his future endeavors!