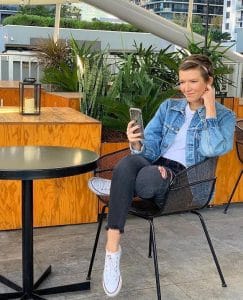 Alexandria "Alex" Whitaker graduated from FSU's School of Information in 2015 with her B.S. in Information, Communication, & Technology (ICT). Early in 2018, she was getting ready for a night out with friends when she noticed a protruding lump on one of her breasts. After numerous doctor visits and scans her worst fears were confirmed: Alex Whitaker was diagnosed with Stage 1, Invasive Ductal Carcinoma at the age of 24. While this information might devastate most people, Whitaker was determined to fight back in whatever way she could.
Her first step was starting an online blog, Whitty's Titty Committee, which features updates on her personal wellness journey, tips for getting through chemotherapy, and a plethora of ways to support other breast cancer patients through her online store with proceeds going directly to the Breast Cancer Research Foundation (BCRF).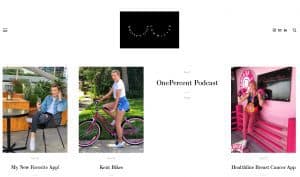 Starting Whitty's Titty Committee was the result of several intentional goals after being diagnosed. "First was the desire to create a support system for other young women living with a breast cancer diagnosis." Whitaker explains, "Fewer than 5% of diagnosed women in the United States are under the age of 40, so the resources available for breast cancer patients simply aren't geared toward a younger audience. It was hard for me to find other young breast cancer patients and the fitting resources when I was first diagnosed, so I wanted to solve that problem. Secondly, I am extremely fortunate to be in a position where, when I got diagnosed, my first thoughts weren't 'how am I going to afford this?' I have great insurance through work and, being under 26, I'm also still on my parents' insurance."
Shortly after being diagnosed and starting Whitty's Titty Committee, Whitaker pitched her story to local and national media in hopes of raising awareness. She was featured in an online article for People as well as Hello Giggles, Healthy Magazine, and the Orlando Sentinel to name a few. It seemed that everyone was interested in hearing her story and connecting with her desire to help those in less fortunate financial situations. "Being that I didn't have to worry financially, I wanted to take the funds that people were willing to donate for my medical care and dedicate them to a cause greater than myself. Another question that I never asked myself or my doctors was, 'Am I going to die?' It wasn't too long ago that they might not have been able to give me a strong 'no' to that answer, which is all thanks to research. Therefore, my natural desire was to donate the funds raised from the sale of my Whitty's Titty Committee tees and tanks to the Breast Cancer Research Foundation (BCRF). So far, we've raised over $1,500 from shirt sales alone!"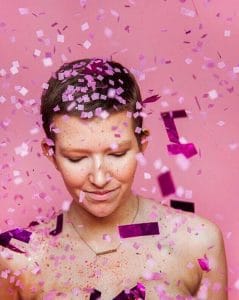 When asked to give advice for others in similar situations, Whitaker advises focusing on staying strong, listening to your doctors and finding someone you can confide in. "Staying strong is important because your mental and emotional health will make a world of difference in your journey." says Whitaker, "Listening to your doctors is important for obvious reasons; they know what's best! Random people and old acquaintances will come out of the woodwork and try to tell you that this magical green juice will cure you. It won't. Listen to your doctors."
Whitaker is very thankful to her employer, Bread and Butter PR in Miami, Florida who have been understanding and supportive through her entire diagnosis process. "I moved back to Florida from NYC to help open the newest location of our company and, although things haven't gone as planned, [my employers] have been super flexible and caring every step of the way. I've worked from home this entire year, only having spent a few days in our actual office. Keeping a somewhat normal routine and lifestyle throughout treatment was important to me and my doctors, so I'm forever thankful that my company has been supportive in allowing me to do that."
If there can be a silver lining through all of this, Alex is determined to find it. "Having gone through this at such a young age has shown me what really matters in life." she explains, "It's put my priorities in line, shown me who my true friends are and helped me become a stronger person than I ever thought possible."
Whitaker is enaged to Timmy Cheadle and plans to be married sometime next year. "I'm just excited to spend the rest of my life with my best friend. Timmy has remained by my side through all the lows this past year has brought and it's made our relationship that muc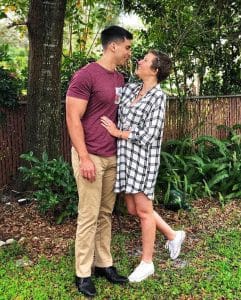 h stronger. I know that together we will be able to weather even the toughest storms but I'm also looking forward to the sunny days – starting a family, taking exciting trips – really just being 'normal' and not always focused on doctors visits or hospital stays."
Whitaker looks back at her time at Florida State with a special fondness and specifically recalls the closeness she felt to her friends due to the physical proximity of dorm life. "Looking back, I really cherish the smallest things, like all nighters at Strozier Library or brunches at Canopy Road." Whitaker says, "Those moments simply don't exist anymore and never will again. Oh and football season. Alumni watch parties are extremely fun but nothing beats being at Doak every Saturday."
Stay updated with Alex Whitaker's journey by going to the Whitty's Titty Committee website.