Charlotte Watson Sherman, iSchool graduate and author, has recently published her second book, Mermaid Kenzie: Protector of the Deep, on January 18th, 2022. She graduated in 2005 with a Master of Science and has gone on to tell important stories and uplift people through works like Brown Sugar Babe, Eli and the Swamp Man, and more.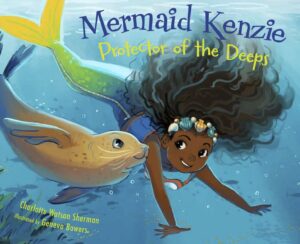 "I wrote Mermaid Kenzie: Protector of the Deeps to help show young (and older) readers we can all pitch in to protect the beauty of our oceans and marine life," said Sherman. After researching environmentalism and seeing the effects of pollution, Sherman was inspired to come up with a creative solution to help protect sea life. When discussing these solutions, Sherman hoped that, "young readers understand that all of us who love the sea and marine life can do our part to help protect our oceans, and we can start small, at home, in our bedrooms and kitchens, by reducing our use of plastic, re-using toys and other items we already have, and sharing or exchanging toys with others."
Sherman wanted to be an author since she was a child, spending most of her time reading and writing. After becoming a grandparent and sharing books with her grandchildren, she discovered her love for picture books and felt inspired to make one of her own. At Florida State University, Sherman's master's studies revolved around the information needs of children and young adults. She said, "this invaluable exposure to a range of genres and authors and subject matter formed a solid base of knowledge for me to branch off from and attempt writing for children."
Following the release of Mermaid Kenzie: Protector of the Deep, Sherman will continue this series and share more of Kenzie's adventures. She also hopes to branch into biographies focusing on untold, creative stories, as well as create an environmental justice novel for adults. For more information on Sherman and her inspiring books, click here.