Meet Bethany Swonson McAlister, CCI alumna and Chief of Staff for the Florida Department of Education. Bethany was recently recognized for her continued contributions to the FSU community with the Reubin O'D. Askew Young Alumni Award.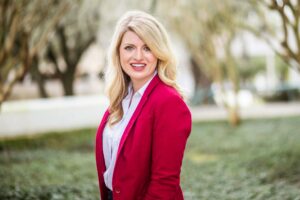 Bethany graduated from FSU in 2013 with her BS in Public Relations, but her path wasn't always clear. Her initial course of study changed from business to exploratory to public relations during her undergraduate career. What drew her to the field of public relations was the opportunity to tell stories that unite people and communities across the globe. During her time at FSU, she was involved in a number of CCI activities and internships, which she credits with giving her insight into her career path post-graduation. "The College of Communication and Information supported my journey to craft a schedule that allowed me to learn about myself and the world inside the classroom and outside," said Bethany. "During my four years at FSU, I interned in the PR field, held a job as a University Ambassador, volunteered with numerous student-led activities, and even started taking master classes my senior year to see if that was something I wanted to do after graduation." 
After graduation, Bethany joined the Zimmerman Agency as a full-time Account Manager. Having worked for them for three years during her undergraduate studies, today Bethany credits Zimmerman with giving her the professional foundation to be successful. In 2015, she was introduced to the world of nonprofit management when she joined Leadership Florida as a program manager. This experience led her to pursue her Master's of Nonprofit Management from the University of Tampa, graduating in 2019. 
In June of 2018, Bethany started a new chapter in her career. She joined the Florida Department of Education (FDOE) as the Executive Director of the Florida Education Foundation (FEF). "My initial role coming to FDOE was serving the Florida Education Foundation is a valued partner in public education and to the Florida Department of Education. The Foundation's mission is to invest in high achievement for every student to contribute to Florida's globally competitive workforce. Our vision is that every Florida student graduates from high school ready for postsecondary education and a career," she told CCI. This work grew her passion to improve the education system in Florida for all. 
In 2019, she transitioned into the role of Legislative Affairs Director while still acting as the Executive Director of FEF. In late 2019, she was promoted to Deputy Chief of Staff and later in  2021 transitioned into the role of Chief of Staff. Bethany shared that her favorite part of working at FDOE  is finding friends who share her passion to be a part of the education community. She describes her colleagues as being, "fearless, passionate, and inspirational. These people wake up every single day and fight to ensure Florida's students, educators, families, and communities have the greatest access to a high-quality education." 
When asked to share some advice for CCI students, Bethany chose six points: 
Find the problem in life you are so passionate to solve and seek all professional opportunities to work on it. You will never work a day in your life.

Nole•torious memories are at your fingertips. Put the phone down, get off the comfy sofa, and go to all the FSU events (Pow Wow, football and basketball games, the circus, ice-cream on Landis with the President, etc.). Those memories will be filled with pride and be a reminder through life phases that you have a true TRIBE to turn to.

Know that you aren't alone in not knowing what you want to do with life or feeling like you don't compare. EVERYONE at all levels of leadership has moments of "imposter syndrome" and doubt – we just don't all Tweet about it to the public.

If you find a person you are inspired by and think you'd like your life to look similar, ask them to coffee. Some of the best advice I got was from being bold and asking a random guest speaker or a professional in Tallahassee to meet for coffee and share their story.

Find a team you LOVE working for and with. A dear coach told me that it isn't often you have the opportunity to be a part of a historic team working on things that really matter. #Gratful4theTeam

Own your opportunities to learn, be a life learner, and pass it on. As Frederick Douglass once said, "Education is freedom." Take that message to heart and you will continue to invite opportunities to lead an impactful life that will change the world for the better when you pay it forward.
The Askew Awards were created by the FSU Alumni Association to honor young alumni who exemplify outstanding leadership in their profession and community. Bethany was one of six alumni honored. She told CCI, "Florida State is blessed to have such visionary alumni and leaders devoted to paving the way for our various professions, communities, and passion. Being one of the many recognized, inspires me to do more and also take the time to be more engaged with other people's success to celebrate them. Hopefully together we can all be the light that makes our future bright. Over the past few decades, Florida State graduates have contributed to some of the most transformative policies, programs, and initiatives – I hope this award continues to celebrate them and inspire other members of the Seminole family to also follow their passion to do good." 
To read more about Bethany, check out her Linked In profile at https://www.linkedin.com/in/bethanyswonson/