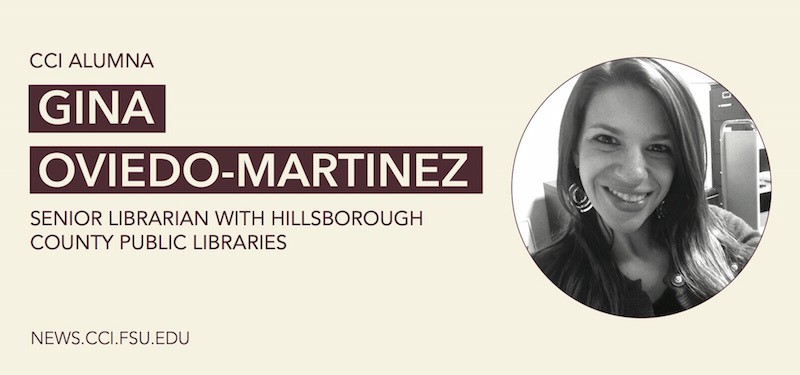 Gina Oviedo-Martinez (M.S. '10) has a ton of untraditional experience under her belt. The trilingual alumna was homeschooled during high school, lived in Mexico for three years to develop her research interests and has worked in academic, school and public libraries.
Oviedo-Martinez was encouraged to pursue the MLIS program at Florida State by her mother, who she says is "always right." She had wrapped up her degrees in Anthropology and Latin American Studies in 2007 when the recession was in full swing, and like many fresh college graduates, she wasn't sure exactly what she wanted to do. Her mother pointed out that Oviedo-Martinez was always spending time in libraries anyway, so she decided to go down the MLIS path.
Oviedo-Martinez says of her mother, "She was very wise to push me in that direction. I have found library services to offer such a variety of work that uses all my skills."
Because the MLIS program is completed online, Oviedo-Martinez was able to live in Mexico while she earned her degree. She found herself in a unique situation, traveling across the border four days a week to work as a reference clerk at the University of Texas Pan Am and then as a library specialist at South Texas College. She spoke to government officials on both sides, college administrators, faculty and students and Mexican factory workers on a daily basis. This experience taught her about the lack of information being trickled down to new immigrants – especially in regards to libraries, government information and college access – and helped inform her research interests and career.
She shares, "Our immigrants need more help accessing information – in detention, in our communities and especially in our schools and universities. It is our job as librarians to ensure that they have that. We live in a very global society and we are on the front lines at reference desks all over the country – we do have the opportunity to change things."
Oviedo-Martinez has returned to Florida and is working for Hillsborough County Public Libraries as a senior librarian. She is in charge of programming at her branch and supervising the reference staff. She spends the first half of her day looking for and booking presenters, as well as working on paperwork. She typically spends the second half of her day at the reference desk answering any number of questions.
In addition to working, Oviedo-Martinez is earning a specialist degree from FSU's School of Information. She's focusing on reference services and higher education because she wants to return to academic libraries. Five years from now, she hopes to be a subject specialist or instructional librarian at a college or university in Florida or abroad.
Oviedo-Martinez will embrace her appreciation for other cultures and languages at the International Federation of Library Associations and Institutions (IFLA)'s upcoming conference in Columbus, Ohio. This opportunity was made possible by an IFLA fellowship award of $1,000.
Oviedo-Martinez says, "My opportunity to attend IFLA is a dream come true as this will give me a chance to connect with international librarians and find out more about libraries on the world stage."
When she's not working, Martinez enjoys thrifting for interesting clothes, reading non-fiction and spending time with her large family. She also enjoys dancing, especially to EDM and Latin music.
Despite having two children before starting school to having to attend classes from abroad, Oviedo-Martinez has always stuck to her dreams no matter what.
She advises, "I want to encourage all those students who have life drama to not give up but to use that as fuel to continue on. It can be done."
To learn more about the MLIS program at Florida State, follow this link.