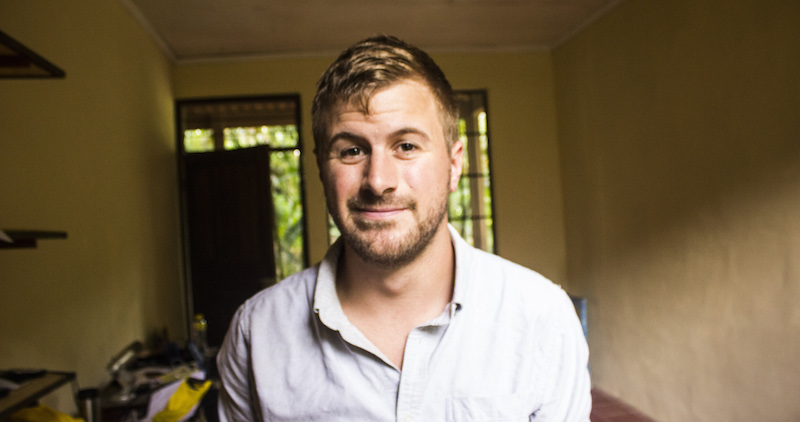 One of the struggles students face when choosing a college major is narrowing down their interests.
For alumnus Jayce Hill, this wasn't a problem. He simply decided to pursue two of his biggest interests by choosing two seemingly very different majors: Cultural Anthropology and Digital Media Production.
Hill has always been interested in these two fields, but these interests blossomed into passions after he took some anthropology and media production classes at FSU. Taking Documentary Production with Dr. Andy Opel helped put his interests into perspective.
He says, "I had never considered it before, but I developed an interest in documentary filmmaking after that class."
Hill truly became a full-blown documentary film enthusiast after attending the Full Frame Documentary Film Festival his senior year of college with Dr. Opel and a few classmates.
Luckily, Hill has been able to blend his contrasting interests throughout his career. He has worked as a graphic designer, archaeologist, videographer and photographer with the National Park Service here in Tallahassee.
Today, Hill works in Honduras with Filmmakers Without Borders. An organization that focuses on bringing filmmaking and media literacy education to children from underserved communities, Filmmakers Without Borders also offers programs in Bhutan, Cambodia, Thailand and Tanzania. There are also programs here in the United States that work with Navajo Tribes.
The program lasts about a year, and Jayce will wrap up next summer. During his time there, he has three goals: to learn how to teach, to learn how to speak Spanish, and to create films. The third is inevitable, as Filmmakers Without Borders has certain filmmaking requirements for its participants.
Hill explains, "Filmmakers Without Borders requires each fellow make a short documentary, a short narrative and a full length feature. The program also requires ten short videos during the first ten weeks."
To check out videos from Hill and other Filmmakers Without Borders participants, visit the organization's Vimeo page here.
Hill also has a video editing business called Too Many Forks Production Co., from which he used to do freelancing work.
He advises, "If you are filmmaker, I do think you should freelance once in awhile. It was nice to have a company name and I would encourage any freelancer to do the same. It just adds a level of professionalism that really sets you apart."
To learn more about Filmmakers Without Borders, click here. To learn more about the Digital Media Production program at FSU, click here.