FSU's School of Information had a strong presence at October's American Association of School Librarians (AASL)'s National Conference, "Experience Education Evolution."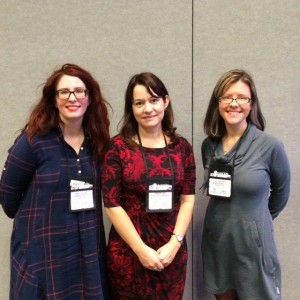 Information Studies doctoral candidate Jennifer Wood presented a research paper with iSchool Associate Professor Dr. Marcia A. Mardis. Dr. Mardis also conducted a research workshop, convened several focus groups on school library standards and chaired the AASL Standards & Guidelines Revision Editorial Committee.
Entitled "Access, Skill, Policy, and Motivation: A Synthesis and Research Agenda for School Librarianship and STEM Digital Learning Resources," the paper was one of only three selected to be selected by the Educators of School Librarians Section (ESLS).
In the paper, Wood and Mardis presented considerations for K-12 educators' transition to science, technology, engineering, and mathematics (STEM) Open Education Resources (OER) and President Obama's #GoOpen education campaign. The other intriguing ESLS papers were "Creating a Community of Scholars" and "From Professional Identity to STEM Resources to Visual Literacy."
Additionally, Wood was the only doctoral student who presented in a research session.
Wood presented at the Educators of School Librarians Section (ESLS) of the conference. This section focused on the shift to causal research in the field, creating a community of scholars to better facilitate the research process and the latest school library studies from across the country.
Mardis also co-led a research symposium entitled, "Causality: School Libraries and Student Success (CLASS)" with colleagues from the College of Education at Old Dominion University. The workshop focused on shifting to causal research in the field and creating a community of scholars to better promote causal school library research across the country. and was attended by 30 esteemed researchers in the school library field.
To learn more about the iSchool at FSU, visit their website here.