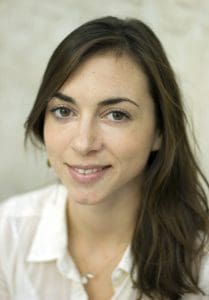 Assistant Professor Malia Bruker recently came back from a trip to Haiti where she worked on her latest documentary 'Batay La' which highlights an autonomous workers' rights organization there. Bruker graduated from Florida State with her BA in Communication in 2005 and earned her MFA in Film & Media Arts from Temple University in 2013. Working primarily in the realm of documentary, Malia Bruker's films have screened at Athens International Film and Video Festival, Sarasota Film Festival, Philadelphia Film Festival, Antimatter Video Art, and Chicago Underground Film Festival.
Bruker's latest film looks at Batay Ouvriye, a group that has been organizing the working class in Haiti since 1994. The literal translation means 'worker's struggle' and that's exactly what she hopes to capture in this in-depth documentary. As the director and cinematographer of this project, Bruker will highlight Batay Ouvriye's campaign to increase the minimum wage for textile workers in multinational factory zones. These workers are currently receiving $5 a day but are fighting for $12 a day in order to make a living wage. Bruker's film also explores the needs of rural agricultural workers and their journey striving for better conditions, better wages, and access to land.
Bruker first became interested in this topic by means of friend and fellow CCI Alumna, Sarah Cruz. Cruz is responsible for creating the Rapid Response Network which alerts its followers of current workers rights campaigns happening overseas. Bruker was following the RRN and wanted to collaborate with Cruz who agreed to help produce her film.
"This film is not just about their plight and struggles, it also recognizes that they have been organizing for many years." Bruker explains. "The purpose of this film is not only to show solidarity with Batay Ouvriye when they have a campaign, but to learn from them about how to organize in the US."
You can learn more about her classes and teaching style by watching her Faculty of the Future spotlight.
The FSU College of Communication & Information (CCI) Faculty of the Future initiative is a college-wide strategic effort to develop, support and empower our faculty as they prepare students for successful careers, provide engaged educational experiences, and build vital, collaborative, interdisciplinary research efforts.