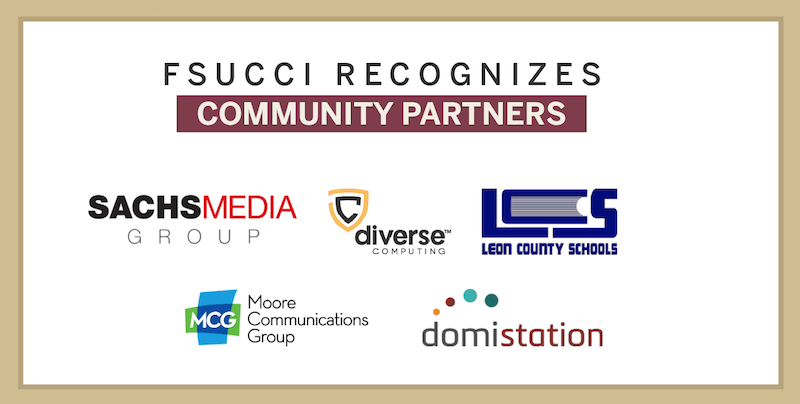 The College of Communication & Information is recognizing community partners who go above and beyond to help students. The new award will be given to five local companies who partner with the College to provide real world experiences, internship opportunities and support.
Sachs Media Group and Moore Communications Group will receive the School of Communication Community Partner award.
Ron Sachs, CEO of Sachs Media Group is accepting the award for his continued dedication to students in advertising, public relations and media communication studies. Karen Moore, CEO of Moore Communications Group is accepting for her agency, who boasts a hispanic marketing sector that partners with the Center for Hispanic Marketing Communication.
Both firms are consistent attendees of the College's career fairs and hire CCI students for internship and externship opportunities. Last year, both were stops on the inaugural Tally Job Hop for communication students. Both firms have are led and staffed by alumni of CCI programs, including Michelle Ubben, Drew Piers, Shelby Hobbs, Fern Senra-James, Nanette Schimpf and Terrie Ard.
Domi Station and Diverse Computing will receive the School of Information Community Partner award.
Lucas Lindsey, executive director of Domi Station will receive the award for his role in providing opportunities for technology students. Domi has been home to countless interns, many events and is a dedicated partner in College events. Lester Hutt will accept on behalf of Diverse Computing, a technology company that routinely students as interns, providing real-world experience. Both Domi and Diverse Computing are home to a group of CCI alumni, including Sabrina Torres, Ashley Augustine Galutera, Desiree Fraser, and Melissa Ehster.
Both partners are regular fixtures at College career fairs, host informational sessions and offer mentorship to students. Hutt was the brains behind the Tally Job Hop, an event that brings students to various local companies to showcase the industry and opportunity in Tallahassee. Domi Station hosted the final stop of the tour and a networking hour.
Leon County Schools is accepting the Community Partner award from School of Communication Science & Disorders. Leon County Schools is the main hub for student experiences in the classroom during the speech pathology curriculum.
"The College is very fortunate to have a community that is so supportive and welcoming to our students," said Larry Dennis, dean of the College of Communication and Information.
"As we continue to provide opportunities for students outside the classroom, these community partners help make that possible."
Awards will be presented at the Honors and Awards Ceremony on Friday, April 7th.