Dr. Ania Rynarzewska (PhD Communication, '12) is supporting Ukrainian refugees with the proceeds collected by her own business, Lux Leonis Skin Care.
As an undergraduate, Rynarzewska began her studies as a PR major, focusing on how to be a good steward of communities. Rynarzewska thanks many of her former instructors for teaching her the skills needed for this field. "Dr. Gilbert, Dr. Grise, and Dr. Rayburn taught me that businesses need to serve communities and do good," she said. "Dr. Heald and Dr. Arpan taught me scientific process and analysis. Dr. McDowell and Mark Zeigler taught me that you can be a quiet leader with a heart. Dr. Nudd taught me that there can be art in science which is very much what my soaps represent."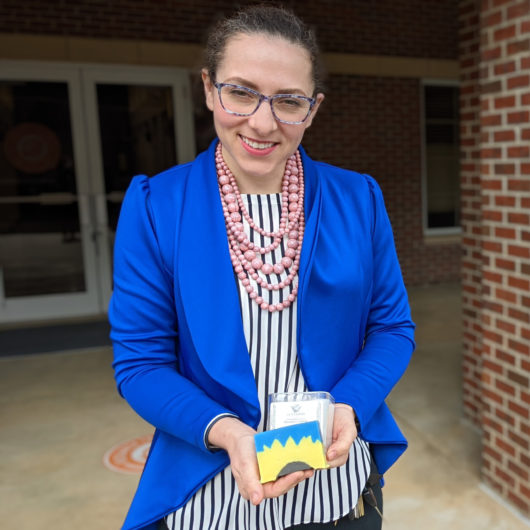 "When I first started the fundraiser, it was about Ukrainian refugees in general," said Rynarzewska. "Now, it is also about very specific refugees as my family has opened our (Polish) home to refugee families." The first fundraiser focused on an organization that cares for refugees, while the second prioritized improving the quality of life for specific refugees in Rynarzewska's family's care. This is especially important for Rynarzewska as host families are not currently receiving subsidies from their local government.
Rynarzewska started Lux Leonis Skin Care, a brand that features soaps, candles, and more, with proceeds benefiting a collection of charities. The soaps are created using quality oils, plant butters, and other organic materials, while candles contain a hand-picked balance of fragrance, wax, and wicks. "Lux Leonis means a lot to me," shares Rynarzewska. "The lion that represents my brand was hand drawn by my student based on my Family's Coat of Arms. It represents truth and honesty."
"Being so far away from my family and friends in Poland who are helping in every way possible and more made me feel useless," said Rynarzewska. "Doing the fundraiser gave me a new sense of purpose."
To support Dr. Ania Rynarzewska, her business, and these causes, click here.