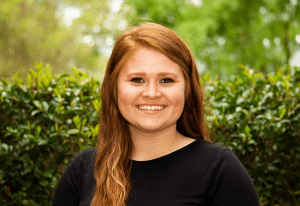 Meet Emily Lee ('18 B.S. Media/Communication Studies and B.S. Information Technology), one of the youngest recipients of the Golden A.C.E. Award as one of Tallahassee's top 20 under 40. Lee graduated just last year and is already making strides in her career. She currently works as a Strategic Partnerships and Innovation Programs Coordinator at the Tallahassee Community College Center for Innovation.
As an aspiring techie, Lee loves that her job allows her to learn something new every day. "Innovation is ever changing and so is my job! Every day is something different whether that's learning new things about the innovators inside the building, engaging with community partners who can benefit or contribute to innovation, working with the wonderful faculty and staff on TCC Main Campus, or experiencing Virtual Reality for the first time – it's always something new," she says.
Her own thirst for knowledge helps her engage with students in the Center for Innovation. "I really love when kids use the space to learn about technology… seeing their faces when they learn something or geeking out together is just fun," she says about her job.
Unlike most students, Lee had not one, but two majors in the College of Communication and Information. Studying both Media/Communication Studies and Information Technology helped her learn the mechanics of the technologies that interested her, as well as how to share those with people. "CCI was the best starting point for my career. I learned in the classroom but I was also pushed by faculty to aim higher and achieve greater. It wasn't enough to pass, it was expected to excel."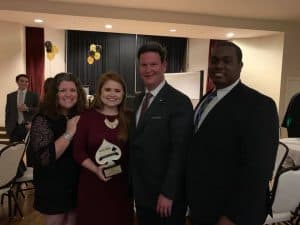 On top of that, Lee got the chance to hold close relationships with professors and faculty across two different schools within the college. One such faculty member was Ebrahim Randeree who told Lee, "You're not doing enough if you want to make money one day." That surely sparked a fire in Lee to keep pushing herself in all aspects of her career. "Let's just say I'm trying to do more than enough these days," she jokes.
Since she has only recently started working at the Center for Innovation, Lee says her goal is to soak up as much information as possible in her new role. "Everyone has something to bring to the metaphorical 'table' and we all have a variety of 'leftovers' we can take away from that table… I value the unique perspective and experiences of all my mentors, community partners, employers, and family," she explains.
As such, her biggest piece of advice is that "it's never too early to start networking–make friends with the people in your classes. Don't just get in and get out with your head down… live in those moments while still planning for the future."